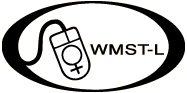 <!IMG SRC="gifs/computercrop2.gif" ALT="[computer logo]" WIDTH=94 HEIGHT=91 HSPACE=10 VSPACE=10>
WMST-L
A description of WMST-L, an international e-mail forum for discussion of Women's Studies teaching, research, and program administration. Includes instructions for subscribing.
Everything you never realized you wanted to know about WMST-L: how to subscribe, unsubscribe, stop mail, get a daily digest, find past messages, access WMST-L's collection of files, and more. See also Using WMST-L's Web Interface
Illustrated instructions for finding past messages or topics that have appeared on WMST-L. See also Using WMST-L's Web Interface
More than 300 files from the WMST-L file collection, arranged into 18 categories such as "Books and Films," "Feminisms," "Language," "Pedagogical Issues and Strategies," "Societal Issues in the Classroom," etc. One section, entitled "WMST-L," provides more information about the listserv. A goldmine of information!
I've moved the old WMST-L syllabus collection to my web space. It has not been updated for years, and I thought of deleting it. However, some people have told me that they continue to find it useful, so I've left it up. It contains more than 600 web-based syllabi for women- and gender-related courses.
Linda Lopez McAlister's film reviews, which used to be a regular feature on WMST-L, have been archived in the Women's Studies Database at MITH. Some reviews by others are also included.
Go back to Women's Studies Online Resources
Go back to WMST-L File Collection