NEWS ABOUT TEACHING
INTERNATIONAL COMMUNICATION
---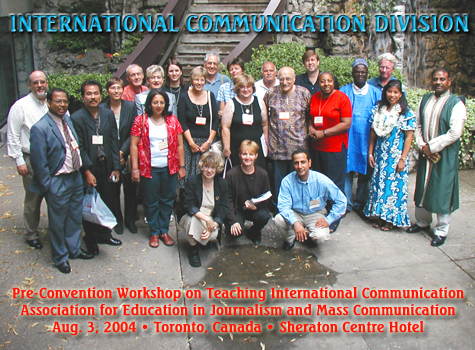 TEACHING HIGHLIGHTS AT AEJMC
PRE-CONVENTION WORKSHOP
TEACHING INTERNATIONAL COMMUNICATION
ICD members from around the globe, including from Australia, Portugal, Saudi Arabia, Korea and the United States, gathered in Canada for the second annual pre-convention workshop on "Teaching International Communication."
For four busy hours, six mentors led work groups in brainstorming for "50 Fabulous Ways To Internationalize Journalism and Mass Communication Courses," ICD's first booklet specifically featuring teaching tips, which will be published for next year's workshop at the AEJMC convention in San Antonio, Texas.
Following the lively presentations of pedagogical ideas, a group photo was taken at the waterfall gardens of the hotel where the workshop/convention was held. The workshop coordinator presented mentors and participants with certificates for their teaching portfolios as a testimony to their dedication and commitment to international communication education.
Workshop Coordinator
Edna Bautista, Roosevelt
Mentors
Anantha Babbili, Middle Tennessee State (General/International Mass Comm)
Birgit Wassmuth, Drake (Advertising)
Maccamas Ikpah, Rowan (Broadcasting)
Eric Loo, Wollongong-Australia (Print Media)
John DeSanto, North Carolina-Charlotte (PR)
Christine Ogan, Indiana (Web/New Media)
Participants
Sulaiman Alenazi, Institute of Public Administration (Saudi Arabia)
Serajul Bhuiyan, Texas A&M-Texarkana
Bonnie Brownlee, Indiana
Anne Cooper-Chen, Ohio
Barbara DeSanto, North Carolina-Charlotte
Margaretha Geertsema, Texas
Robyn Goodman, Alfred
Daniel Haygood, Tennessee
Paul Janensch, Quinnipiac
Kwang Jae Lee, Kyung-Hee (Korea)
John Pollock, New Jersey
James Scotton, Marquette
Seema Shrikhande, Oglethorpe
Amy Struthers, Nebraska-Lincoln
David Thompson, Loras
Nelson Traquina, Nova de Lisboa (Portugal)
Maria Williams-Hawkins, Ball State
TEACHING PANEL
INTERNATIONALIZING INTERNATIONAL COMMUNICATION CLASSES
Jim Scotton (Marquette) moderated an enlightening teaching panel about internationalizing international communication classes on Aug. 4, 2004. Interactive CDs and handouts were given to those who attended the panel. Featured presenters and topics included:
Sharon Murphy, Bradley
Global Journalism Partnerships: From Slovenia to Illinois
Arlene Scadron, Arizona
Personal Travel and the Classroom: Enriching the Traveler and the Curricula
Nailah Hamdy, American U-Cairo
Teaching e-Journalism in Egypt and Elsewhere
This panel was co-sponsored with the Community College Journalism Association.
NEW TEACHING CHAIR
Edna Bautista (Roosevelt) will be passing on her duties as ICD teaching chair to Jim Scotton (Marquette) effective Oct. 1, 2004. He will be in charge of coordinating the 2005 pre-convention workshop as well as all ICD teaching panels at AEJMC. Please send any teaching panel proposals to him before Oct. 15. His e-mail address is james.scotton@mu.edu.

TEACHING RESOURCES
Syllabus Exchange

ICD is in the process of collecting links of online syllabi with international teaching themes. If you would like your link to be included on the ICD Web site, please contact Edna Bautista at

ebautist@chaminade.edu

by Sept. 30, 2004. She will forward all links to the Web master who will resume updating this teaching Web page.
Great Ideas For Teachers (GIFT)
If you have a unique teaching approach in any of your international or general mass communication courses, share it with others! You could win $100 for doing so. For more information, go to the GIFT Web site at http://www.geocities.com/aejmcgift/index.html.

Recommended Readings
If you have authored a textbook about international mass media, or want to recommend a good book as a global teaching resource, let us know and we will add that information to this Web page.

---
Last updated August 26, 2004. All information found in this site is ©2004, the International Communication Division of the Association for Education in Journalism and Mass Communication.