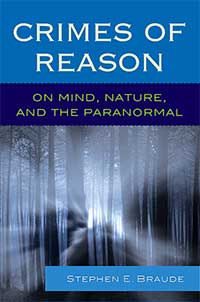 CRIMES OF REASON
ON MIND, NATURE, AND THE PARANORMAL
Rowman & Littlefield Publishers
(July 16, 2014)
Acquire this book as:
1 - Hardcover
2 - Paperback
3 -Kindle
"Stephen Braude is a professional philosopher and well established author both of books and articles who is particularly noted for two things.
One is for his work in certain Borderland areas in which topics within philosophy, psychology, parapsychology and psychiatry meet, overlap and interact (or should interact). The other is for the clarity and pithiness of expression with which he handles abstruse and difficult issues.
He has a gift for analogies, often amusing ones, which cut through layers of nonsense (often pretentious nonsense loaded with jargon) and expose the nub of a question. If Braude's views are correct – and they are certainly cogently argued – these topics are potentially of considerable and wide-ranging importance."
(Alan Gauld, University of Nottingham)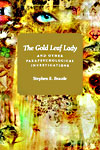 The Gold Leaf Lady and Other
Parapsychological Investigations
University of Chicago Press, 2007
Acquire this book from:
Amazon.com
---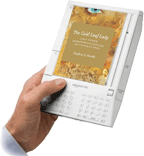 Gold Leaf Lady
Now Available on Kindle
from Amazon.com
"This book isn't just good, it's excellent. Stephen Braude is at the top of the intellectual food chain in the study of paranormal phenomena..."
—Fred Frohock, author of Lives of the Psychics: The Shared Worlds of Science and Mysticism
"The Gold Leaf Lady is a read not to be missed. To initiates it offers valuable updates and insights. To those inconversant with the current state of parapsychological research, it may rank as the best introduction available."
—AntiMatters

Immortal Remains:
The Evidence for Life After Death
Rowman & Littlefield, 2003

Acquire this book from:
Amazon.com In All Three Formats:
Kindle, Paperback and Hardback
"Certainly one of the best assessments ever written of the evidence for human survival of bodily death."
- Raymond Martin, Union College

The Limits of Influence:
Psychokinesis and the
Philosophy of Science
Revised edition,
University Press of America, 1997
Routledge, 1986
Acquire this book from:
Amazon.com

First Person Plural:
Multiple Personality and the
Philosophy of Mind
Revised edition, Rowman & Littlefield, 1995
Routledge, 1991
Acquire this book from:
Amazon.com