---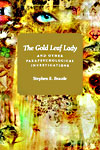 Reviewers' Comments
---
---
"Philosophers have long made outstanding contributions to psychical research, from Sidgwick and James to Ducasse, Price and Broad, yet they have not tended to get involved in fieldwork. Stephen Braude, professor of philosophy at the University of Maryland, Baltimore County, has not only ventured into several fields, he has dug most of them up, finding both a good deal of rubbish and a fair amount of treasure that but for his efforts might have remained buried... a refreshingly personal... exhilarating, provocative and compulsively readable book."
— Guy Playfair, Journal of the Society for Psychical Research.
---
"This book isn't just good, it's excellent. Stephen Braude is at the top of the intellectual food chain in the study of paranormal phenomena, an accomplished philosopher of science who brings his first-rate intellect to bear in a fair and deep treatment of the supernatural. Replete with personal accounts and anecdotes from his many investigations, The Gold Leaf Lady is a riveting read, a tour through the paranormal that both enchants and instructs us."
— Fred Frohock, author of Lives of the Psychics: The Shared Worlds of Science and Mysticism.
---
"
The Gold Leaf Lady is a read not to be missed.
To initiates it offers valuable updates and insights. To those inconversant with the current state of parapsychological research, it may rank as the best introduction available."
—
AntiMatters
---
"The writing is so fluid that the book at times seems made for a screen adaptation.
(In fact, Chris Carter, creator of The X-Files, contributes a blurb to the back of the book. Braude advised Carter on a screenplay he is writing.) But Braude also includes some dense philosophical arguments — especially in a chapter about synchronicity, in which he ponders whether humans can orchestrate unlikely coincidences through psychokinesis, the ability to move or influence objects with the mind."
— Scott Carlson in
Chronicle of Higher Education
and posted on
monstrous.com
---
"
The Gold Leaf Lady describes what happens when a University of Maryland philosopher, a professional in the art of "deep nonsense" detection
, collides with the perplexing world of the paranormal. Stephen Braude pulls no punches in his memoir of amazing, amusing, and at times poignant investigations. This book is sure to infuriate some and fascinate many."
— Dean Radin, author of
The Conscious Universe
and also
Entangled Minds
.
---
"
I enjoyed the book for its fascinating anecdotes and discussion of issues they raise... It can certainly be recommended to anyone thinking about entering the 'psi' arena, for it gives a clear impression of the heat to be found in that particular kitchen. One has to admire Braude for having endured it so long with no apparent impairment of his enthusiasm or integrity." — Chris Nunn, Journal of Consciousness Studies (Click here for review.)
---
"
Braude is anything but pedestrian and writes with flair and humour throughout...The Gold Leaf Lady is not designed to be an exhaustive presentation of the evidence in support of a paranormal interpretation. Rather, it takes the reader on a tour of some of the extraordinary adventures in the life of this philosopher-cum-parapsychologist. Furthermore, the book is peppered with thought-provoking philosophical observations... Braude's intellectual bravery and disarming frankness shine through." — Caroline Watt, in Metascience (Click here for review.)
---
"Stephen Braude's The Gold Leaf Lady is by turns funny, serious, sad, and mischievous. Whether you're a believer or not, you read his book hoping that it's all true." —

Chris Carter, creator and executive producer of The X-Files
---
"The study of the supernatural has often been rejected by mainstream scientists on the grounds that it has nothing of interest to tell us. Philosopher and parapsychologist Stephen Braude does a beautiful job of proving them wrong. The Gold Leaf Lady is fascinating in its subject and insightful in its premise—that it's through exploring the world's mysteries that we truly learn to understand ourselves."
— Deborah Blum, author of Ghost Hunters: William James and the Search for Scientific Proof of Life after Death
---
"Braude provides an incisive, disarmingly frank account of his parapsychological investigations...[His] provocative philosophical forays into the study of synchronicity and mediumship provide insights that deserve greater exposition. This well-written book is...recommended. All readers, all levels."
— Stanley Krippner in Choice
---
"Braude carries the discussion about the nature of consciousness and reality in light of the occurrence of anomalous events into deeper waters than those usually entered, thereby giving the reader an opportunity to consider matters at a greater level of complexity. I liked this book. And it was fun to read."
— Imants Baruss, in Journal of Scientific Exploration
---
"Spending a quiet winter afternoon with the written memoirs of an investigator of parapsychological phenomena can be a real treat... Stephen E. Braude's The Gold Leaf Lady and Other Parapsychological Investigations is a recent release that I eagerly awaited... because throughout his career Braude has provided much scholarship on the nonexperimental evidence for psi. The Gold Leaf Lady presents the everyday challenges of a scholar who dares to take seriously areas of research that are scorned by much of academia."
— Annalisa Ventola, in Public Parapsychology
---
"This book is an easy read, provides some fairly strong evidence for the existence of paranormal phenomena and I'm sure will entertain most readers—other than [the author's] professional colleagues."—Rob Harle, Metapsychology
---
"
A very enjoyable excursion into the world of hands-on psi research, with all its rewards and pitfalls
...One of the most fascinating chapters is the last one, which I approached with some trepidation, because it covers astrology. I have trouble taking astrology seriously. So does Braude, but his attitude came up against a challenge when he married a Serbian immigrant who, in her spare time, cast horoscopes - and made a very good living at it. The method used by Gina Braude is considerably more sophisticated and refined than standard "by-the-numbers" astrology, and requires charting each client's life from the day (and if possible the hour and minute) of birth. Using her techniques, Mrs. Braude was able to forecast the fortunes of sports teams with remarkable accuracy. Braude's wry, winsome description of the couple's successful experiments in gambling is a highlight of the book, though no doubt it will leave skeptics more aggravated than ever."
—
Michael Prescott's Blog
-
Occasional thoughts on matters of life and death
---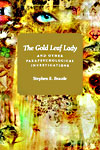 Book Jacket Blurbs
---
INSIDE FRONT FLAP:
For over thirty years, Stephen Braude has studied the paranormal in everyday life, from extrasensory perception and psychokinesis to mediumship and materialization. The Gold Leaf Lady and Other Parapsychological Investigations is a highly readable and often amusing account of his most memorable encounters with such phenomena. Here Braude recounts in fascinating detail five particular cases—some that challenge our most fundamental scientific beliefs and others that expose our own credulousness.
Braude begins with a south Florida woman who can make thin gold-colored foil appear spontaneously on her skin. He then travels to New York and California to test psychokinetic superstars—and frauds—like Joe Nuzum, who claim to move objects using only their minds. Along the way, Braude also investigates the startling allegations of K.R., a policeman in Annapolis who believes he can transfer images from photographs onto other objects—including his own body—and Ted Serios, a deceased Chicago elevator operator who could make a variety of different images appear on Polaroid film.
Ultimately, Braude considers his wife's surprisingly fruitful experiments with astrology, which she has used to guide professional soccer teams to the top of their leagues, as well as his own personal experiences with synchronicity—a phenomenon, he argues, that may need to be explained in terms of a refined, extensive, and dramatic form of psychokinesis.
Heady, provocative, and brimming with eye-opening details and suggestions, The Gold Leaf Lady and Other Parapsychological Investigations will intrigue both adherents and detractors of its controversial subject matter alike.
---
BACK FLAP:
Stephen Braude is professor of philosophy at the University of Maryland, Baltimore County. He is the author of some sixty journal articles and four previous books, including The Limits of Influence: Psychokinesis and the Philosophy of Science and, most recently, Immortal Remains: The Evidence for Life after Death.
---
BACK:
"Stephen Braude's The Gold Leaf Lady is by turns funny, serious, sad, and mischievous. Whether you're a believer or not, you read his book hoping that it's all true." —Chris Carter, creator and executive producer of The X-Files
"The study of the supernatural has often been rejected by mainstream scientists on the grounds that it has nothing of interest to tell us. Philosopher and parapsychologist Stephen Braude does a beautiful job of proving them wrong. The Gold Leaf Lady is fascinating in its subject and insightful in its premise—that it's through exploring the world's mysteries that we truly learn to understand ourselves." —Deborah Blum, author of Ghost Hunters: William James and the Search for Scientific Proof of Life after Death
"This book isn't just good, it's excellent. Stephen Braude is at the top of the intellectual food chain in the study of paranormal phenomena, an accomplished philosopher of science who brings his first-rate intellect to bear in a fair and deep treatment of the supernatural. Replete with personal accounts and anecdotes from his many investigations, The Gold Leaf Lady is a riveting read, a tour through the paranormal that both enchants and instructs us." —Fred Frohock, author of Lives of the Psychics: The Shared Worlds of Science and Mysticism
"The Gold Leaf Lady describes what happens when a University of Maryland philosopher, a professional in the art of 'deep nonsense' detection, collides with the perplexing world of the paranormal. Stephen Braude pulls no punches in his memoir of amazing, amusing, and at times poignant investigations. This book is sure to infuriate some and fascinate many." —Dean Radin
The University of Chicago Press; www.press.uchicago.edu; ISBN-10: 0-226- 07152-9; ISBN-13: 978-0-226-07152-7
---