WMST-L's Announcement Policy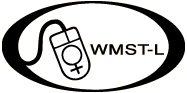 Please read the following excerpts from the WMST-L User's Guide before sending any announcement to the list:
"MY UNIVERSITY HAS A JOB OPENING/CONFERENCE. MAY I POST AN ANNOUNCEMENT ON WMST-L?"
WMST-L welcomes the posting of job and conference announcements, calls for papers, and the like, as long as the announcement has some explicit connection to Women's Studies. Announcements without such a connection should NOT be sent to WMST-L. The wish to reach more female candidates, however laudable, is NOT adequate reason to post non-Women's-Studies announcements. Heavy mail volume is a persistent problem on WMST-L; the list cannot accommodate the increased volume that a more liberal posting policy would bring. (Keep in mind that each year, there are literally thousands of academic job openings. Most institutions wish to show that they have tried to reach female and minority applicants. Whereas some commercial publications charge hundreds of dollars to carry even a small ad, WMST-L is free. Thus, unless we restrict postings, the list is likely to be INUNDATED with job announcements.)
WHAT IS WMST-L'S POLICY ABOUT ADVERTISING? MAY I SEND AN ANNOUNCEMENT ABOUT A BOOK, FILM, OR PERFORMANCE THAT I WISH TO RECOMMEND?
NOTE: Do not send commercial advertising to some or all WMST-L subscribers, not even privately. People who use their access to WMST-L to gather e-mail addresses to use for commercial purposes, or to sell or give to others, will be removed from WMST-L and barred from resubscribing. However, if you have created a women's-studies-related book, video, film, etc. and wish to let subscribers know about it, you may announce it on WMST-L. Indeed, you are encouraged to do so. You may also mention other books and resources, even if you have a commercial interest in them, if you are responding to a specific query for which the books/resources are directly relevant. If you are a women's-studies-focused performer, you may let the list know about your performances, but not more than twice a year. Please do NOT send notices about books, films, performances, and other commercial resources that you have not created unless you are responding to a specific query.

It's true that such notices about works created by others might well be useful, but the dangers far outweigh the usefulness. The primary danger is that this already high-volume list will be INUNDATED with announcements from publishers, agents, friends, sponsors, companies, etc. etc. What publisher could resist free advertising to an ideal audience? Such advertising, with its concommitant increase in mail volume, could easily cause hundreds of people to have to sign off and could even imperil the list's use of the university's facilities. Hence, the list's policy.
Return to WMST-L Information