---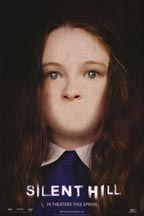 Silent Hill

is the latest crossbreed of video game and horror, a genre which has had some trouble of late, as this year's

BloodRayne

and 2005's

Alone in the Dark

failed to make even a small dent at the box office (not to mention the nearly unanimous condemnation of critics, ouch). But Sony Pictures adds a new element to the equation this time by bring on a talented and promising writer/director to breath some new life into this movie genus.



Silent Hill

took the video game world by storm when it was released for Playstation back in 1999 by Konami. It quickly developed a cult following and, along with that, three video game sequels. The 2006 movie,

Silent Hill

, incorporates elements from each of the four games into a two hour story with French directory/co-writer Christophe Gans at the helm.

Christophe Gans – whose brilliance we got a glimpse of in his 2001 French film

Brotherhood of the Wolf

– simply put, is an amazing director. He puts images on the screen in a way that few directors can; using colors, shapes and tonality that we rarely experience outside of a Tim Burton or Terry Gilliam film.

A lot of horror films now-a-days, play out like a checklist. You might not know the order in which you will check the boxes, but they will all eventually get check by film's end. However, you never quite get the feeling that you know exactly where

Silent Hill

is headed. Another cool element of this film is that it doesn't just borrow the video game's name, it actually feels like a video game at times, as we collect inventory, open passageways, dodge obstacles and, of course, fight monsters. The film manages to balance its elements of mystery, suspense, imagery and, oddly enough, video game play well. My biggest complaint is that the ending dragged out, but all and all a pretty strong movie.



Grade:

B




Potential:

Exceeded



Also recommended

The Mothman Prophecies

(2002),

City of the Lost Children

(1995),

Hellraiser

(1987).




Silent Hill

is directed by Christophe Gans. It opens April 21st and is rated R for strong horror violence and gore, disturbing images, and some language.