---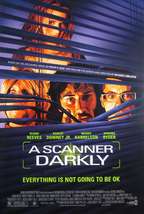 Philip K. Dick delivers mind-bending stories such as 1990's

Total Recall

; Richard Linklater has proven he can bend minds in his own way in his 2001 film,

Waking Life

; Keanu Reeves did his fair share of bending minds in

The Matrix

series; the three will now try to bend minds together in the new Richard Linklater adaptation of the Philip K. Dick underground classic,

A Scanner Darkly

. The movie brings back the same digital rotoscoping technology Linklater used in

Waking Life

, and boasts a cast including Keanu Reeves, Winona Ryder, Robert Downey Jr., Woody Harrelson and

CSI: Miami

's Rory Cochrane.

You might not recognize the name of author Philip K. Dick if you're not a hard core science-fiction fan; that group knows him well. Dick wrote 44 novels including

A Scanner Darkly

and complemented that with countless short shorts that he wrote up until his death in 1982. Why his name has never gained household recognition is somewhat of a mystery. Much of his work revolves around the common theme of challenging the reader's understanding of how he perceives reality. Hollywood has visited Dick's work many times before, and, when done right, it can live on as a beloved classic for eons. 1982 brought us the first adaptation of Dick's work to film in the form of Ridley Scott's take on the novel

Do Androids Dream of Electric Sheep?

better known by movie goers as

Blade Runner

; 1990 saw Paul Verhoeven bring

We Can Remember It For You Wholesale

to the big screen in

Total Recall

; and Steven Spielberg turned the short story

Minority Report

into box office gold in 2002. But, just like Stephen King or Michael Crichton, not all of Dick's work has been so memorably adapted;

Screamers

(1995),

Imposter

(2002) and John Woo's

Paycheck

(2003) were all critical and box office embarrassments.



A Scanner Darkly

is an animated film drawn using a technique called interpolated rotoscoping. Rotoscoping is a process by which the filmmakers capture everything using real cameras and real actors and then literally draw/trace over each frame of film to animate it. The result is that movement and proportions of objects in rotoscoped cartoons are hyper-realistic. The word 'interpolated' refers to the mathematical formula used to automate this on computers, because — much like everything else in the 21st century — the technique Richard Linklater uses on

A Scanner Darkly

and

Waking Life

, is digital. You still may recognize the style if you've seen earlier rotoscoped movies such as the 1978 Ralph Bakshi film

Lord of the Rings

or the computer world portions of the 1982 Disney film

Tron

.

The story itself revolves around a street drug called Substance D and the government's somewhat extreme efforts to monitor and curtail its use, but unlike the gory ultra-violent

Pulp Fiction

-like movies we're used to seeing of late in this, the illegal narcotics, genre,

A Scanner Darkly

has none of that. This movie is about the mind. The animation style is sometimes a little distracting (especially at the beginning of the movie when you're trying to figure out who's who), but all and all, it works well in the film to create the surrealistic feeling that reflects the hallucinogenic daze that many of the film's characters find themselves living. It also renders an especially cool effect with the suits used in the movie to conceal one's identity called 'scramble suits.'

A Scanner Darkly

is not quite the mind-bending-experiences-times-three described above, but it's a very cool film and it will leave you thinking when you leave the theater – about what exactly, I will not say.



Potential:

Exceeded



Notes: The next Philip K. Dicks movie in the works will be

Next

scheduled for a fall 2007 release. It will star Nicolas Cage and Julianne Moore.

Also recommended

Waking Life

(2001),

Total Recall

(1990),

RoboCop 2

(1990).




A Scanner Darkly

is directed by Richard Linklater and stars Keanu Reeves, Winona Ryder, Robert Downey Jr., Woody Harrelson and Rory Cochrane. It opens July 7th and is rated R for drug and sexual content, language and a brief violent image.