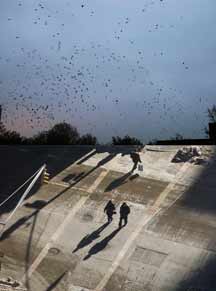 DOWNup is a new collaborative project started February 10, 2007. Every other image is photographed "down" or "up," by either Boudewijn or me. The idea of "down" or "up" can be either literal or conceptual, or both. We do not plan the juxtaposition, nor change the image combination once it is posted.

Boudewijn Payens is a dutch artist living and working in Amsterdam, Netherlands

Visited Boudewijn again this past January and began a new project photographing half of any table and posting the image facing to the right, Boudewijn to the left. That is until we decide not to do it any longe in that manner. .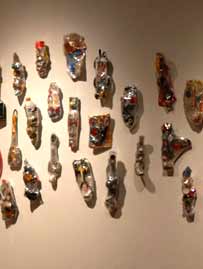 Out of Place, exhibition at the Uniersity of Maryland, College Park, Art Gallery, Silver Springs, Maryland

Steve Bradley's installation, Speaking of Place, underscores the importance of sound in forming ideas of place and develops the experience of four people living in the Baltimore area. Voices of the participants and background noises give a picture of that place, capturing how memories form through fragments rather than in a coherent, linear narrative. Material artifacts provide another layer to one's notions of place, as evidence of human occupation and everyday use.

documentation: speak of place