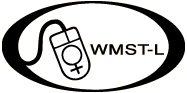 The Appeal of (Same-Sex) Marriage
This discussion seeks to address a question posed by a student: why are
gay couples (and others) interested in marriage, an institution that is
flawed and patriarchal?  The discussion took place on WMST-L in
January/February 2009, with added messages from June/July 2010.  For more
WMST-L Files available on the Web, see the WMST-L File Collection.
==========================================================================
Date: Sun, 1 Feb 2009 18:12:47 -0500
From: Krista Kiessling <mycrunchyfamily AT AOL.COM>
Subject: defn. of marriage
Hi there,

Can anyone direct me to some writing on a "new" definition of
marriage?? I've had several students ask about why gay couples (and
others) would be so interested in taking part in an institution that
is flawed and patriarchal.? It's a question I have asked also....Is
anyone writing about a "different" or "new" institution for
commitment?

Krista Kiessling
Owens Community College
Sociology
===========================================================================
Date: Sun, 1 Feb 2009 18:28:17 -0600
From: Jeannie Ludlow <jeannieludlow AT GMAIL.COM>
Subject: Re: defn. of marriage
Hi Krista, and all,
There are some really smart analyses out there regarding this question. If
you do a simple subject search on a feminist/gender database (like
GenderWatch, Gender Studies database, or Contemporary Women's Issues) for
same-sex marriage, you'll find a lot of helpful work re: this. Often, the
argument isn't so much that marriage is this great institution but, instead,
that there's a big difference between opting out of a flawed institution and
being prohibited from it at all.

When students bring up these questions, it might help to remind them that
the social benefits allowed to legally married people in the U.S. make this
flawed institution pretty attractive even to hets who barely know one other
(and sometimes who seem not to like one another very much).

Being categorically denied the flaws (not to mention the benefits) of an
institution is not a manifestation of an intelligent queer or feminist
critique of the institution; it is a clear example of oppression. In fact,
the "why do they want to participate in a flawed institution anyway?"
question sometimes reminds me of the arguments journalists and politicians
used to critique woman suffrage at the turn of the 20th century: politics is
such a harsh and dirty world, and women would only be sullied by their
direct participation in it. We are really protecting women by denying them,
blah blah.

Now, those who have or don't have access to the institution and wish to
critique/change/eschew it are another matter, of course. For this
perpsective, you might look at the website gayshamesf.org; look for their
statement on marriage.

Peace,
Jeannie

-- 
Jeannie Ludlow, Ph.D.
jeannieludlow  AT  gmail.com
jludlow  AT  eiu.edu
Coordinator, Women's Studies
  and Women's Resource Center
Eastern Illinois University
600 Lincoln Ave.
Charleston, IL 61920
===========================================================================
Date: Sun, 1 Feb 2009 21:03:40 -0500
From: "Boling, Patricia A" <boling AT PURDUE.EDU>
Subject: Re: defn. of marriage
Dear Krista,
 
you might take a look at Cheshire Calhoun's book, Feminism, the
Family, and the Politics of the Closet: Lesbian and Gay Displacement
(2000).  Calhoun doesn't exactly redefine marriage, but she makes the
stakes for lesbians being able to marry very clear, and she argues
that marriages aren't all patriarchal and oppressive.  One of the
strengths of her work is that she doesn't ignore efforts on the part
of heterosexual women to push their partners toward more egalitarian
relationships, and she questions the blanket assertion that marriage
is necessarily and irredemably unjust.  Chapters 5 and 6 are
especially useful for seeing this argument.
 
Pat Boling
 
Political Science and Women's Studies
Purdue University
===========================================================================
Date: Mon, 2 Feb 2009 10:13:02 -0500
From: J. Musial <jmusial AT YORKU.CA>
Subject: Re: defn. of marriage
Hi Krista, Hi Jeannie!  :::waves:::

this might not be what you're looking for but I've used this article with
great success in a 1st year classroom:

Epstein, Rachel.  "Queer Parenting in the New Millennium: Resisting Normal".
Canadian Women's Studies Journal:  Lesbian, Bisexual, Queer,
Transsexual/Transgender Sexualities.  24(2):


Epstein has a been a public figure and theorist of same-sex marriage debates
in Canada.
In this article, she warns about establishing a "new normal" with equal
marriage laws passing; that is to say marriage will become normal/the only
legitimizing force/hegemonic for queer couples. If I recall, Epstein isn't
anti-same sex marriage.  She's issuing a cautionary note about hegemony more
than anything else.  I might have a .pdf kicking around somewhere if you
have trouble finding it.

Also, I'm sure EGALE has plenty of resources that would be helpful.
http://www.egale.ca/index.asp?lang=E
EGALE was one of the main advocacy/activist organizations that pushed for
same-sex marriage rights in Canada.


Jennifer


*****************************************************
Jennifer Musial
PhD Candidate - School of Women's Studies
York University
Toronto, ON
===========================================================================
Date: Tue, 3 Feb 2009 13:16:35 +1100
From: Bronwyn Winter <bronwyn.winter AT USYD.EDU.AU>
Subject: Re: defn. of marriage
In Australia new legal recognition of gay partnerships could have serious
financial consequences for older couples who have throughout their lives
organised their finances as single people.  They now may be subjected to the
same regimes as straight couples who have for years been able to claim
couple benefits (tax breaks, medical benefits etc).  e.g. if one partner
loses her/his job, the other partner¦s income is means-tested and the
unemployed person could become ineligible for unemployment benefit.  I think
this is outrageous even for straights ¡ in france you have rights as an
unemployed individual, whatever your partner does.  and so you should!

the introduction of this legislation without ~Lgrandparenting¦ clauses for
already-established couples who have not been subjected to this regime could
subject middle-aged to older women in particular to financial hardship ¡
they have missed out on the benefits all their lives but now could be
penalised by other aspects of legislation governing benefit entitlements.

moreover, marriage legislation discriminates between those in a traditional
couple situation and those who are not (whether single, non-monogamous or
other).  this is not always to the advantage of the ~Lmarried¦ e.g. in the
case of unemployment benefit cited above.  it also could tag as ~Lcouples¦
people who are not e.g. not living with a lover but with a close friend ¡
with possible deleterious financial consequences.

why ever haven¦t we been fighting all these years for individual citizens
and residents to have rights as individuals:  to health care, to
unemployment benefit and so on.  why should one¦s rights be dependent on
those who are richer/more powerful/more socially recognised?

marriage is more than flawed, and its ideological origins (and continuing
ideological and economic functions) are vastly different from that of the
vote ¡ the comparison is inappropriate.

while I agree that gays should not be denied benefits (or protected from
obligations) that fall to/on straights, this does not mean that we think
that everything that is legal in a heterosexist society is ok, and we should
not automatically be wanting it just because straights have it and we don¦t.
maybe we should be wanting straights *not* to have it, or for straight women
as well as lesbians to have a better range of options!

when the news broke a few weeks back of the fallout from the new australian
legislation I could not help thinking ~Lbe careful what you wish for¦.

bronwyn

*****************************************************************
Dr Bronwyn Winter
Associate Dean and Chair, Undergraduate Matters Committee
Program Director, International and Comparative Literary Studies
Faculty of Arts
 
Senior Lecturer
Dept of French Studies
School of Languages and Cultures
University of Sydney
NSW  2006  Australia
 
Email: bronwyn.winter  AT  usyd.edu.au
Office:  Brennan McCallum 747
 
===========================================================================
Date: Tue, 3 Feb 2009 14:34:57 +0000
From: karen henninger <karendee57 AT HOTMAIL.COM>
Subject: Re: defn. of marriage
>>>>>>>why ever haven¦t we been fighting all these years for
       individual citizensand residents to have rights as individuals:
       to health care, tounemployment benefit and so on.  why should
       one¦s rights be dependent onthose who are richer/more
       powerful/more socially recognised?
 
I would be very interested in some resources, discussion and any
organizing/organizations concerning this topic.
 
When one steps back and looks from a distance, so much of social
change-work IS impacting marriage (as was)...and some of what is going
on, needs to be acknowledged where it is not publicly. The forces (and
individuals involved) that have interests in holding marriage together
as an institution (personal as/and in the political) is directly in
opposition to much of the work already been done by women's groups. It
doesn't have to be either-or, but without awareness and
acknowledgement and appropriate solutions for Freedom and choices, I
think progress is significantly slowed for all.

Karen Henninger 
Media Literacy and EcologyCultural Environmentalist Consultant
Women Studies Independent Scholar and Community Education Specialist
Visual Artist and Visual WriterCreative Artist of Life
===========================================================================
Date: Tue, 3 Feb 2009 10:18:17 -0500
From: Hagolem <hagolem AT C4.NET>
Subject: why gays and lesbians may want to marry
With your students, you could give the following story.  Two friends of mine
have been together many years.  They have not been able to legally marry.
One of them has had breast cancer with complications involving her heart.
When she is hospitalized and unable to make decisions, her partner is not
legally able to do that.  She is not close to her birth family.  She has an
exhusband with whom she had two children.  Her partner has raised them but
has no legal connection with them because they cannot marry.  Her partner
has helped support those children and been responsible for them every way
but legally. They relate to her as a parent.  But the state does not
acknowledge her role.
===========================================================================
Date: Tue, 3 Feb 2009 09:32:02 -0600
From: Phyllis Holman Weisbard <pweisbard AT LIBRARY.WISC.EDU>
Subject: why one lesbian couple chooses not to marry
Long-term couple and Massachusetts residents Martha Ackelsberg and Judith
Plaskow issued a statement in 2004 about their reasons for not getting
married. Here's a quote from the statement:

"... focusing on the right to marry perpetuates the idea that these rights
ought to be linked to marriage. Were we to marry, we would be contributing
to the perpetuation of a norm of coupledness in our society. The norm
marginalizes those who are single, single-parents, widowed, divorced or
otherwise living in non-traditional constellations. As the language of the
Massachusetts Supreme Judicial Court decision itself makes evident, a focus
on gay marriage can reinforce a dangerous tendency to define a particular
form of family as the 'basic unit of society.' "

 See http://www.commondreams.org/views04/0601-10.htm for the rest of their
statement.
-- 
****************************************************
Phyllis Holman Weisbard, Women's Studies Librarian
University of Wisconsin System
430 Memorial Library, 728 State Street
Madison, WI 53706
pweisbard  AT  library.wisc.edu
http://womenst.library.wisc.edu
****************************************************
===========================================================================
Date: Tue, 3 Feb 2009 09:58:40 -0600
From: "Kane, Kate" <kkane4 AT DEPAUL.EDU>
Subject: Re: why gays and lesbians may want to marry
If you want a video to make the argument for you,I think Tying the Knot
and Freeheld make these points very well.  The second tells the story of
one couple in a situation like the one below and the first is a larger
analysis of marriage with attention to two stories along those lines
(one is of a lesbian couple who had had a religious marriage.  One of
these lesbians is a police officer who is killed in the line of duty and
her partner is denied the pension, the other is of a gay couple in rural
America who lose their farm when one dies and a group of distant cousins
challenge the will).


Kate Kane
===========================================================================
Date: Tue, 3 Feb 2009 12:57:27 -0500
From: "Wall, Sally" <SWall AT NDM.EDU>
Subject: Re: why gays and lesbians may want to marry
You may add to that story of medical and child care discrimination
against homosexual couples the fact that: If one partner must be placed
in a nursing home facility, and financial resources are exhausted, the
couple would be forced to sell a home that they jointly owned prior to
any Medicaid support for the institutionalized partner--The marital home
is a protected asset for heterosexual couples.
Should one partner die, the survivor must pay inheritance taxes as a
stranger on any assets that come his/her way via a will.  If there is no
will, the surviving partner has no legal standing.  
These financial pressures can be serious hardships, especially for older
gay/lesbian couples.

I am very aware of and sensitive to the discussion of "marriage" as an
institution and the hegemonic nature of this institution.  The questions
about how society SHOULD be structured and the larger issues of
responsibility and caring are separate issues for me, and do not negate
the struggle for equal access to the rights that exist for only
heterosexual individuals as our cultural institutions are currently
structured.
For example, I don't find it a contradiction to advocate for universal
health care and also fight for domestic partner benefits in
employer-based health plans.

Sally Wall

Sally N. Wall, Ph.D.
Professor of Psychology
Psychology/Sociology Department
College of Notre Dame of Maryland
4701 N. Charles St.
Baltimore, MD 21210
===========================================================================
Date: Tue, 3 Feb 2009 13:40:19 -0500
From: Nicole Garner <ngarner10 AT JCU.EDU>
Subject: Re: why gays and lesbians may want to marry
Hi all, Here is a song by Julie Goldman about gay marriage, it is a
part of one of her standup shows on LOGO but it does show the issue of
being left out of/ segregated from very well. This is something that I
go back and forth with myself, one hand why would i want to
participate in something so misogynist on the other hand why can they
tell I cant- This skit song makes me think yeah, why can they tell me
I can't.  Enjoy, and remember it is part of a standup.

http://www.logoonline.com/video/?id=1603476&vid=335438

Best
Nicole
To find relief in what has been we have to make ourselves eternal- Violette Leduc
===========================================================================
Date: Tue, 3 Feb 2009 14:45:15 -0500
From: Hagolem <hagolem AT C4.NET>
Subject: Re: why gays and lesbians may want to marry
The result of legislation to enable gay or lesbian couples to marry is the
same as the result of Rowe v. Wade -- nobody has to have an abortion, but
they can if they want to or need to. The same with marriage legislation.
Same sex couples do not have to get married unless they really want to --
but then they can, the same as heterosexual couples can choose to or not.
Nobody has to adopt a child, but if they want to, then it should, all other
aspects like character and financial ability being equal, be available to
them.  The right to do something is not the same as urging people to do it. 
===========================================================================
Date: Tue, 3 Feb 2009 15:14:12 -0500
From: Watts Vicki <victoriajanewatts AT MAC.COM>
Subject: Re: why gays and lesbians may want to marry
Agreed.  Except of course, the rights accrued through marriage are still
denied to people who choose other forms of relationship that aren't modeled
on the marriage norm.  I would never oppose legislation for gay marriage,
but I do worry that it might be a rather limited, conservative response to
the set of injustices the privileging of heteronormative marriage engenders.
It perpetuates the fiction that our most important intimate relationship is
necessarily sexual and monogamous, and by extension seems to diminish, or
delegitimize other models of intimacy, other lifestyles.  What if I choose
polyamorous sexual relationships, want to raise a child by myself, and share
my domestic space with a platonic best friend whom I trust to make medical
decisions on my behalf and with whom I would like to share 'spousal'
benefits because the rest of our finances are blended?

Respectfully,
Vicki Watts

On Feb 3, 2009, at 2:45 PM, Hagolem wrote:
===========================================================================
Date: Tue, 3 Feb 2009 15:10:56 -0500
From: Katha Pollitt <katha.pollitt AT GMAIL.COM>
Subject: Re: why gays and lesbians may want to marry
I see no conflict between supporting gay marriage and wanting health
insurance, pensions and other benefits to be distributed to people as
individuals. I've written many columns advocating both. If gays want to
marry, they should be able to, just like heteros.  That's a separate
question from whether marriage is too powerful a social institution.Also,
I'm not a lawyer, but I'll bet there are ways in which it would be hard to
replicate the definitive power of marriage in inheritance and custody law.
It would certainly be a mistake to assume that everyone in a sexual
relationship  regards their partner as the person who should get their whole
estate if they die intestate, have power to make medical decisions, etc.
marriage is a way of saying: this is the person I want to have these rights.
As for the supposedly misogynous nature of marriage, the addition of gay
marriage really expands the paradigm: here are two people who love each
other and are a family, but they can't divide chores and roles along gender
lines. That tells heteros that there are other ways of living together than
by falling into conventional sex roles.

Katha Pollitt
kpollitt  AT  thenation.com
===========================================================================
Date: Tue, 3 Feb 2009 16:01:30 -0500
From: Krista Kiessling <mycrunchyfamily AT AOL.COM>
Subject: Re: why gays and lesbians may want to marry
I am so grateful for this discussion. You are giving me such
wonderful points of view to share with my students. It's such a fun
and complicated issue to discuss but I don't want to do anyone a
disservice in the process.? My own mother is a lesbian and has been
with my "other" mom for 26 years. I know they would love to have the
opportunity to choose marriage as an option, but also don't want to
participate in an institution that devalues women and limits the
defining characteristics of thier relationship.  As a predominantly
straight woman, it's hard for me to see clearly where I sit?on this
one. Thanks again for your insights.

Krista 
===========================================================================
Date: Wed, 4 Feb 2009 09:14:36 +1100
From: Bronwyn Winter <bronwyn.winter AT USYD.EDU.AU>
Subject: Re: why gays and lesbians may want to marry
dear all

my political critiques previously posted to the list (and comments re real
possible negative side effects in australia who were previously assumed
*not* to be a couple but now may be assumed to *be* a couple, whatever they
declare, simply because they live together), were nothing to do with
individuals' motivations, nor were they based on an assumption that a right
will become an obligation (even if this is not precluded - e.g. voting, to
use a previously-made comparison, is compulsory in australia - it is
unlikely in the case of marriage or civil partnerships!).

that said, my substantive point is a critique of 'equality' based on what
already exists in a heterosexist male supremacist capitalist society,
because we know very well, as feminists, that 'equality':

(a) is not (i.e. formal 'equality' masks structural *inequalities* and can
even, paradoxically, exacerbate them if structural domination is not taken
into account, e.g. men abusing sex-equality legislation to dismantle
affirmative action or to oppose women-only spaces), and

(b) even if it *is* real equality (of opportunity, of access etc), it does
not necessarily correspond to a feminist transformational vision.  it may be
a step on the way (the vote is an excellent example:  without the
fundamental constitutional right of citizenship, one has little chance of
working to make the voting process mean something more profound than it
currently does in terms of opposing corruption, gerrymandering and so on,
and getting better representation of various social groups in politics).
but it may be a means rather than an end, or part of the end but not the sum
of it, or an accommodation with the present imperfect system to remove the
worst of structural and cultural marginalisation and discrimination.  I
consider gay marriage to fit the third of these categories.

in some ways, the much-criticised Civil Solidarity Pact in france may be a
better option than marriage in terms of inclusiveness and recognition of a
variety of relationship arrangements. The PaCS is criticised primarily
because its financial and fiscal advantages are less than those for defacto
or married couples, and adoption and access to IVF are not allowed for
"pacsTs" - but one can enter into a PaCS with a sibling, a friend, a
colleague.....  it is mainly about tax and inheritance.

in a capitalist heterosexist masculinist society, what *is* the political,
economic and cultural function of marriage, really? whatever changes,
happily, may have happened to women's advantage (although those working in
sexual assault and domestic violence services will tell a different story),
this is *also* an accommodation with a core institution of a system that is
not designed with women's interests in mind. (one may argue the same for the
vote but I still claim that the vote, historically, politically, culturally,
has not evolved for the same fundamental reasons - but this is a very long
conversation!).

this is also a very different conversation from one about the motivations of
individuals.  individuals should be able to do whatever they damn well
please if it does not harm others or infringe their rights, and conforms to
social responsibility towards others (I remain much wedded - excuse the pun
- to the jacobin model of citizenship involving both individual rights and
social duties towards others both individually and collectively, even if
this model also needs some work!), but we all know that the individuals who
get to enjoy this freedom are mostly male and mostly rich, and still, rice
and obama notwithstanding, mostly white.  ....and mostly straight :-)
(iceland's interim leader and the mayor of paris also notwithstanding
:-)....).  

this is not about a 'numbers' game (add women, blacks, gays, hispanics,
disabled, muslims etc etc and stir) but about systemic, structural and
systematic domination.  marriage, whatever accommodations we may make with
it in order to make people's esp. women's lives easier, serves that system.
isn't feminism about having a transformative social vision, changing the
bases of the system?

I have absolutely no objection to gays and lesbians being able to get
married if they wish to, including in a church with all the tralala if
that's what does it for them. it's really none of my business to make
decisions about how people find pathways through this difficult life and
hopefully find some joy and companionship in doing so.

but this is not my point.  there are two different conversations going on
here, it would be good not to mix them up!

bronwyn


*****************************************************************
Dr Bronwyn Winter
Associate Dean and Chair, Undergraduate Matters Committee
Program Director, International and Comparative Literary Studies
Faculty of Arts
 
Senior Lecturer
Dept of French Studies
School of Languages and Cultures
University of Sydney
NSW  2006  Australia
 
Email: bronwyn.winter  AT  usyd.edu.au
Office:  Brennan McCallum 747
 
===========================================================================
Date: Tue, 3 Feb 2009 14:29:30 -0800
From: Max Dashu <maxdashu AT LMI.NET>
Subject: Re: why gays and lesbians may want to marry
Sally Wall writes,
>  I don't find it a contradiction to advocate for universal
> health care and also fight for domestic partner benefits in
> employer-based health plans.

Exactly. There is no reason why advocating an expansion in marriage rights
to same-sex couples should be seen as the end of the road. Universal health
care and other rights need to be fought for. It's step by step. Here we are
talking about one large class of people. All or nothing is not a strategy
for expanding rights.

As Plaskow and Ackelsberg acknowledge, it is a privilege to be able to
forswear rights in this matter:

> It's not easy to walk away from these benefits?especially in a world in
> which they don't come easily. We are fortunate, in that we do not need to
> rely on one another's employers for our health coverage, and this allows
> us the luxury of deciding not to marry.

My perspective is as a lesbian who is approaching a 26 years partnership and
has chosen not to get married. (Living in California, that was a
less-than-one-year window of opportunity, because now once again it is not
an option.) Aside from not believing in state sanction, there are credit and
tax reasons. But back in the day it would spared us much agony over
citizenship access and possible forced separation. And we are not afraid of
what our families might do. But i favor making this right possible.

It is not a universal solution, but will add protections to lesbian mothers,
people with fundamentalist or other traditionalist families, partners
without health insurance coverage. I prefer the idea that a worker would be
able to designate a beneficiary but in the current economic climate i don't
think that is going to happen.

To expand the right does not mean it can not be further expanded in future,
and i think that expansion is more likely to happen if this one goes
through. More education must be done.

Max
-- 
Max Dashu
Suppressed Histories Archives
http://www.suppressedhistories.net

New: Women's Power DVD
http://www.suppressedhistories.net/womenspowerdvd.html
===========================================================================
Date: Tue, 3 Feb 2009 17:52:49 -0500
From: Nancy Naples <nancy.naples AT UCONN.EDU>
Subject: Re: why gays and lesbians may want to marry
On this point, CT now has marriage rights for same sex couples which led to
the removal of domestic partnership benefits which is more loosely defined
and not as comprehensive as marriage but might be preferred by both same sex
and opposite sex couples who don't want to participate in the formal
instituion of marriage. Those who received civil unions in CT under the
previous lesgislation [which offered all the benefits of marriage under
another categorization] are currently receiving letters informing them that
they have to get married by a certain date to retain their rights. So
instead of broadening the possibilities for different forms of relationship
recognition, the offering of marriage to same sex couples is, in many cases,
narrowing the possibilities. n

-- 
Nancy A. Naples
Professor, Sociology and Women's Studies, University of Connecticut
Past President, Society for the Study of Social Problems (2007-2008)
Past President, Sociologists for Women in Society (2004)

Office Address:
Room 326, Unit 2068, 344 Mansfield Rd. Storrs, CT 06269-2068

Web Page: http://sociology.uconn.edu/faculty/naples.html
UConn WS: http://www.womens.studies.uconn.edu/index.html
Society for the Study of Social Problems (SSSP): http://www.sssp1.org
Sociologists for Women in Society (SWS): http://www.socwomen.org/
===========================================================================
Date: Wed, 4 Feb 2009 08:29:36 -0500
From: Dorothy Miller <dorothy.miller AT CASE.EDU>
Subject: Gay marriage issue
I have written an article about the issue of gay marriage that is in an
anthology I co-edited. The piece is "The Potential of Same-Sex Marriage for
Restructuring Care and Citizenship," in Hamington, M. and Miller, D,
Socializing Care: Feminist Ethics and Public Issues, Roman and Littlefield,
2006. In the paper I argue, as Katha mentions, that gay marriage would
change the paradigm of how we see marriage. I also discuss various
arguments, pro and con. 

Dorothy C. Miller, D.S.W., Director
Flora  Stone Mather Center for Women
& Clinical Associate Professor
Mandel School of Applied Social Sciences
& Program Faculty in Women's Studies
Case Western Reserve University

Mailing Address:

Flora Stone Mather Center for Women
Case Western Reserve University
10900 Euclid Ave.
Cleveland, OH 44106-7175
===========================================================================
Date: Thu, 5 Feb 2009 10:02:22 -0600
From: "Wendland, Milton W" <milton AT KU.EDU>
Subject: Re: why gays and lesbians may want to marry
 
Perhaps some light on the question of why lesbians and gays may want
to marry is found when we ask why non-lesbians and non-gay men (i.e.,
heterosexuals) may want to get married.
 
Milton Wendland
===========================================================================
Date: Wed, 23 Jun 2010 00:16:55 -0400
From: keileraas AT WESLEYAN.EDU
Subject: Re: Same Sex Marriage
I am seeking recommendations for compelling scholarly articles re.
same-sex marriage for a graduate seminar on public policy this fall. I
also plan to use testimony from the recent Prop 8 hearings in CA, as well
as a related book chapter or two. For those of you who are interested, I
am more than happy to compile and share these recommendations with list
members. Thank you in advance for your ideas!

All my best,
Karina Eileraas
Women's Studies
UCLA
===========================================================================
Date: Wed, 23 Jun 2010 06:11:51 -0700
From: sm matambanadzo <caramelncrimson AT YAHOO.COM>
Subject: Re: Same Sex Marriage
Hey karina,

You might want to use part of Katie oliviero's diss.  She works in
thus area and I think part of what she is doing has been accepted by
signs.

Cheers

Saru
      
===========================================================================
Date: Wed, 23 Jun 2010 12:40:28 -0400
From: Trixie G. Smith <smit1254 AT MSU.EDU>
Subject: Re: Same Sex Marriage
An important piece in this debate is Michael Warner's argument "Beyond Gay
Marriage," which is a chapter in his book The Trouble with Normal: Sex,
Politics, and the Ethics of Queer Life.


Dr. Trixie G. Smith
Director, The Writing Center
Michigan State University
300 Bessey Hall
East Lansing, MI 48824
Email: smit1254  AT  msu.edu
Web: http://writing.msu.edu

Co-Editor, X Series for Professional
Development, Fountainhead Press
http://www.fountainheadpress.com
===========================================================================
Date: Wednesday, July 28, 2010 6:16 AM +0000
From: Lisa Dettmer <lisadettmer AT COMCAST.NET>
Subject: Re: Beyond Gay Marriage
Hi All, 

Over the last few months I have noticed that several people have asked for
articles providing a critical perspective on the issue of Same Sex Marriage. I
too have been looking for in depth articles or books on this issue that provide
a feminist or progressive critique of the conservative gay agenda including same
sex marriage. It is really unfortunate that the mainstream gay movement seems to
have completely displaced and ignored its feminist and radical roots and adopted
such a conservative agenda. So it really is up to the femininst's in Women's
Studies programs to raise this issue and debate since it is not occurring in the
progressive or LGBT media or communities.

While some academics are doing this and have contributed to and signed onto the
excellent statement on the website BeyondMarriage.org a statement that provides
an brilliant reframing of the narrow terms of the marriage debate in the United
States and demonstrates the link between the mainstream gay movements adoption
of same-sex marriage and the broader conservative pro-marriage, ôfamily valuesö
agenda and the larger economic neoliberal agenda of Capitalism. However I have
not found a piece that really explains the racist components of the mainstream
gay marriage movement or a good in depth progressive feminist or radical Queer
analysis of the mainstream gay movement which has derailed the liberation
movements that created the modern gay and feminist movements. And unfortunately
the straight left media has bought into the discourse of the mainstream gay
movement believing it is a progressive agenda.

Lisa Duggan one of the authors of the statement on the beyondmarriage website
will be publishing a book called "The End of Marriage: The War over the Future
of State Sponsored Love" which i think will be one of the definitive books on
this subject from a progressive and feminist perspective.

I was so frustrated with the lack of scholarly or even journalistic articles
that provide a critique of gay marriage and the mainstreaming of the gay
movement that I have created an hour long radio documentary that includes the
analysis of Lisa Duggan and many other scholars as well as Queer activists,
especially progressive Queers and Queers of color, who are not normally heard in
academic circles. My radio piece presents a radical Queer analysis of not just
the same sex marriage issue but the mainstreaming of the gay movement as well.
Several professors have utilized my documentary in their classes since students
enjoy using other media than books to learn from and this piece holds their
attention . But a portion of the piece will be printed in Race, Poverty & the
Environment in a few months. I really recommend this piece because of the lack
of analysis on this issue. And for those of us in the activist community this
issue is actually hiding and displacing real life and death issues as well as
pushing the entire LGBT movement in a very scary conservative direction that
without intervention will only continue.

If you have a problem with the URL let me know at the email below .


Lisa Dettmer, JD 
cositas1  AT  comcast.net 
Women's Magazine 
KPFA Radio 

My piece is available at http://www.indybay.org/newsitems/2010/07/13/18653757.php 

This documentary questions the motives and politics of the gay marriage agenda
and provides an analysis of what a progressive Queer movement would look like.
Providing a unique analysis that you won't hear presented in the mainstream or
alternative media and certainly not in the mainstream Queer media, this topic is
certainly very timely with the recent battles in California and across the
country over the legal right for gays and lesbians to marry. This documentary
provides a view that is shared by many in the Queer community but is not a view
that is afforded the opportunity to be heard in most media circles. At the
website beyondmarriage.org over 2,000 people signed an online petition to the
LGBT community also arguing that the gay marriage movement is part of the
conservative values pro-marriage movement and was signed by most of the major
Queer academics and many others, yet this petition and the beyondmarriage.org
perspective has also gone unnoticed even in progressive media . This documentary
takes up the beyondmarriage.org perspective and extends it to examine what
radical queers feel are important issues for the Queer community.
This documentary is both cutting edge and also vitally important to Queer
politics and to progressives and feminists generally.

Featured speakers/guests: NYU Professor Lisa Duggan; Executive Director Queers
for Economic Justice, Kenyon Farrow; Kate Kendal, Executive Director of the
National Center for Lesbian Rigths; Seattle University School of Law Professor
Dean Spade; Queer activist, Tommi Avicolli Mecca, University of Portland
Professor Priya Kandaswamy; and Brian Bassinger, Executive Director of the Aids
Housing Alliance of San Francisco among others.
===========================================================================

For information about WMST-L

WMST-L File Collection