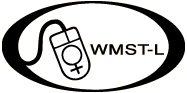 The Pink Video "Stupid Girls"
The following discussion begins with responses to the Pink video "Stupid Girls."
Along the way, however, it also considers whether/when it is appropriate or
acceptable for women to make fun of other women.  The discussion took place on
WMST-L in May 2006.  For additional WMST-L files now available on the Web, see
the WMST-L File Collection.

===========================================================================
Date: Mon, 15 May 2006 08:51:31 -0700
From: Courtney Martin <courtneyemartin AT YAHOO.COM>
Subject: Pink video "Stupid Girls"--discussed in your classes or depts.?
Hi Everyone,

  I'm writing a story for Women's eNews on the sensation that the Pink
  video "Stupid Girls" has caused beyond the usual pop culture
  world. Have any of you discussed the video in your classes? Has a
  link to it circulated among staff members? Has it been brought up at
  panels or conferences?

  I would appreciate any anecdotes you have.
  Thanks.
  -Courtney E. Martin, adjunct at Hunter and freelance writer


Check out my website: www.courtneyemartin.com  

"Engrave this upon your heart: there isn't anyone you couldn't love once you heard their story." 
 --Mary Lou Kownacki
===========================================================================
Date: Mon, 15 May 2006 12:39:40 -0400
From: Janell Hobson <jhobson AT ALBANY.EDU>
Subject: Re: Pink video "Stupid Girls"--discussed in your classes or depts.?
This discussion came up in my Women and Media class this spring semester
in response to an earlier discussion on intersections of race and gender
in beauty and desirabiilty.

One of my white female students objected to comments made by various
racial and ethnic students in the class, who viewed the "blonde" image of
femininity as an oppressive symbol and one in which everyone was expected
to conform, because she, as a natural blonde, felt that there was nothing
empowering about being "blonde," that in fact, she was expected to be
"dumb and vacuous", hence she found being blonde and female very
oppressive and could not see why others in the class found this image to
be a powerful symbol.  This response came up as a result of reading some
essays on white privilege and whiteness in cinema, as offered in the
critiques of film theorist Richard Dyer, and she was resistant to the
whiteness of the image (versus the gendered image) as perpetuating a
certain system of power in which non-white and even non-blonde white women
felt they had no value.

At any rate, I had shown early in the semester the movie segment from
Gentlemen Prefer Blondes, in which Marily Monroe performs "Diamonds are a
Girl's Best Friend,"  and we read an essay on Barbie and Disability
(Rosemarie Garland Thomson's "Integrating Disability, Transforming
Feminist Theory," to be specific), so I imagine my student was dealing
with this dual complexity in which, the image of the blonde was embedded
in white supremacy at the same time that it perpetuates sexist ideology
equating idealized femininity (the blonde sex symbol) with weakness,
stupidity, girlishness, etc.  We also examined the "blonde" image
cross-racially to interrogate how blackness (Lil' Kim and Beyonce) and
Latinidad (Shakira) complicated this concept of racialized femininity.

In the midst of these debates, another student burned for me on a CD
Pink's music video, "Stupid Girls," which I showed to the class, and we
had a fruitful discussion about Pink's dismantling not only of the sexual
objectification of women in popular culture but also that same "dumb
blonde" image that plagued both blonde and non-blonde women alike.  We
tied the discussion back to whiteness alongside sexual objectification.

Hope this helps in your quest for stories and responses.

Peace,
Janell Hobson
jhobson  AT  albany.edu
===========================================================================
Date: Mon, 15 May 2006 13:01:18 -0400
From: Kathy Miriam <kmim AT EARTHLINK.NET>
Subject: the Pink video
Although I had found the video funny-- I was enlightened by my own
students --they were, rightly, angry because in "dismantling"
sexual-objectification, Pink excoriates specific women-celebrities--
making the old move of ridiculing women for playing into the demands
of men and male dominant culture--rather than ridiculing the men who
make such demands.


Kathy Miriam

kmim  AT  earthlink.net
===========================================================================
Date: Mon, 15 May 2006 13:23:36 -0400
From: Becki Fogerty <becki.fogerty AT SEWALLBELMONT.ORG>
Subject: Re: the Pink video
There is a good interview with Pink about her video on the DVD side of her
album where she addresses some of the very messages on this list.  

I think that along with Pink's video, her interview on why she wrote the
song and what she is trying to accomplish and Madonna's video for "What it
Feels Like for a Girl"(which was aired only 1-time) would be great pieces to
incorporate in classes with discussions of what it means to be a girl in
contemporary society and where women (and men) get those messages from.

-Becki Fogerty
===========================================================================
Date: Mon, 15 May 2006 13:22:43 -0400
From: Rebecca Whisnant <Rebecca.Whisnant AT NOTES.UDAYTON.EDU>
Subject: Re: the Pink video
Following up on Kathy's observation . . . I had some brief discussions 
with my students about the Pink song/video too.  They pointed out that, 
despite the song's putatively feminist message, it functions by putting 
down other women as "stupid girls" -- thus Pink (and by implication the 
female listener) makes herself look better by contrast to those other 
(stupid, fluffy, worthless) girls.  The song just wouldn't "play" in a 
culture where girls, and all things "girly," were not generally 
stigmatized as stupid, trivial, and contemptible.

Relatedly, I am noticing more and more often the ways in which vicious 
cultural misogyny is taken out (by both men and women) on icons like 
Britney Spears, Paris Hilton, the Olsen twins, etc.  They seem to be 
permissible targets -- to the point where one routinely sees "joking" 
references in the press to wanting to beat them to a pulp and the like. 
It's pretty disturbing. 

Actually, since I brought it up, is anyone aware of research or analysis 
on this phenomenon whereby female celebrities are used as punching bags at 
which to hurl our surplus reserves of misogyny? 

____________________________

Rebecca Whisnant
Department of Philosophy
University of Dayton
===========================================================================
Date: Mon, 15 May 2006 14:33:00 EDT
From: Patricia Stukes <JUSBCAS AT AOL.COM>
Subject: Re: Pink video "Stupid Girls"--discussed in your classes or depts.?
Hi all,

Courtney, I have my students do a lyrical content analysis on music
performed by any single artist or contrasting multiple women artists
in several genres of music.  Students must include interview notes
that may reveal in the artist's own words regarding how and why they
may choose to perform the song or type of music they perform.  In
their conclusion they must address how the artist uses the media to
transfer knowledge to other women. The song Pink recently released,
"Stupid Girls" came up as a presentation some eight or nine times this
semester. Most of the students, who are predominately white and
female, contrasted Pink's "Stupid Girls" with the media's "It" girls.
For most of them, behavior is the definitive characteristic that Pink
and they critique.  Materialism, eating disorders, cookie cutter
images, and a constant craving for paparazzi attention, are attributes
that they view counter to 'intelligent" or feminist sensibilities.
While some women may see the implication of "blonde as stupid," to be
a simple stereotype attributed to hair color and/or race, most young
women who critiqued this song perceived this stereotype as behavioral
and indicative of women in general who do not engage critically with
the way in which they represent themselves publicly, and the choices
they make privately.

peace,

patricia a. stukes bs ma
adjunct/graduate student
Women's Studies/Sociology
Texas Woman's University and University of North Texas
===========================================================================
Date: Mon, 15 May 2006 12:47:59 -0500
From: Jodie Hertzog <Jodie.Hertzog AT WICHITA.EDU>
Subject: Re: the Pink video
Following up on Rebecca's comments... "despite the song's putatively 
feminist message, it functions by putting 
down other women as "stupid girls" -- thus Pink (and by implication the 
female listener) makes herself look better by contrast to those other 
(stupid, fluffy, worthless) girls."

A student called me a few week ago & said you have to put on the Oprah 
show featuring Pink. There was a discussion on the show about Pink's use 
of the term "stupid" and the dynamic that it sets up.  Pink first said 
something about it being a song and needing something catchy and then 
discussed how she didn't see the women she satires as being stupid but as 
promoting a harmful stereotype that women in our society are forced to 
choose between being seen as either smart or pretty.  I don't remember 
exactly the terminology, but Pink and Oprah each defined the term "stupid" 
with both basically saying it is not being true to one's self.  Pink also 
discussed that she doesn't see her self as better than, but that she hoped 
the song & video would show women that they don't have to maintain the 
status quo to be successful because there are other options of femininity 
even though they aren't as accessible in the media.  At one point she asks 
the audience to think about making a list the smartest women in Hollywood. 


There are a few video clips from the episode on the Oprah website: 
http://www.oprah.com/tows/pastshows/200604/tows_past_20060410.jhtml

Jodie Hertzog, Ph.D.
Sociology Dept., Campus Box 25
Wichita State University
404 Lindquist Hall
Wichita, KS  67220
jodie.hertzog  AT  wichita.edu
===========================================================================
Date: Mon, 15 May 2006 18:15:01 -0400
From: Katha Pollitt <katha.pollitt AT GMAIL.COM>
Subject: Re: the Pink video
I think it's okay to ridicule women who play into men's demands if
they are as successful at it as Britney spears and Paris Hilton! They
can take care of themselves. They have plenty of agency, and they use
it for bad things.   Mary Wollstonecraft mocked the idle fashion
plates of her day and was very tough on women who  played dumb and
manipulated men, even as she explained that these women were using
the tools ready to hand.
   And about that blonde student mentioned in an earlier post who
complained that she was stereotyped as a dumb blonde. to me this
sounds like the old commercial "Please.. don't hate me because I'm
beautiful.'  She can always dye her hair. or just display her
intelligence in an unmistakeable way.
   there are lots of intelligent blondes in pop culture btw. Dumb
blonde is just one stereotype -- you need big breasts and a sultry
manner for that, not just pale hair.

Katha Pollitt
katha.pollitt  AT  gmail.com
===========================================================================
Date: Mon, 15 May 2006 20:53:55 -0400
From: Susan Iverson <Susan_Iverson AT UMIT.MAINE.EDU>
Subject: Re: Pink video "Stupid Girls"--discussed in your classes or depts.?
has anyone heard this or used it in class discussion?

to watch the video [the girl does choose football over barbie in the end]
http://www.pinkspage.com/

Lyrics
http://justjared.blogspot.com/2006/01/pink-stupid-girls-lyrics.html
===========================================================================
Date: Tue, 16 May 2006 00:48:38 -0400
From: Jennifer Musial <jmusial AT YORKU.CA>
Subject: Pink's ethos & past videos
I'm catching up on the WMST-L threads through daily digest & wanted to offer 
a quick comment about Pink.  In response to Kathy Miriam's quote that Pink 
goes after female celebs "rather than ridiculing the men who make such 
demands"... you might be interested to know that she did this in a much 
earlier song/video.  When Pink first became famous, she was pegged into that 
somewhat-edgy, hip hop white girl mode.  But by her second CD, she had 
enough industry credibility to call out her producer.  In her song "Don't 
Let Me Get Me", she writes/sings:  "LA told me, /'You'll be a pop star, /all 
you have to change/ is everything you are'.  / Tired of being compared to 
damn Britney Spears/ She's so pretty / that just ain't me" 
http://pink-online.iwebland.com/lyrics/missundaztood/dontletmegetme.htm 
Here she's referring to pop superproducer L.A. Reid.  Another interesting 
Pink moment is when she was filming the video for "Lady Marmalade", she 
apparently had a crying fit because she wasn't comfortable enough with her 
lower body to wear the revealing clothing.  How interesting that she appears 
naked with minimal covering in the video for "Stupid Girls"...  My take is 
that Pink is a person who "played the game" at first as a young artist, but 
has gained enough cred. in the music industry (critically & with mass 
audiences) to be able to take a more critical stance.  She's grown into her 
anti-establishment persona.  I also concur with Jodie Hertzog's comment 
about the meaning of "stupid" because in an interview with Much Music in 
Canada, she pointed out that stupidity is a performative act consciously 
chosen by other young celeb. women, not necessarily a reflection on their 
actual level of intelligence.

just some more fuel for your classroom discussions,
Jennifer



************************************************************
Jennifer Musial
PhD Candidate - School of Women's Studies
Collective Member - Centre for Women and Trans People at York
York University
Toronto, Ontario  M3J 1P3
************************************************************ 
===========================================================================
Date: Tue, 16 May 2006 10:33:17 -0400
From: Rebecca Whisnant <Rebecca.Whisnant AT NOTES.UDAYTON.EDU>
Subject: Re: the Pink video
Katha wrote:

I think it's okay to ridicule women who play into men's demands if 
they are as successful at it as Britney spears and Paris Hilton! They 
can take care of themselves. They have plenty of agency, and they use 
it for bad things. 

*** I agree they can take care of themselves, although I don't think that 
excuses the misogyny (as distinguished from reasonable feminist criticism) 
directed against them.  The issue is the motives and the broader effects 
of the misogynist attacks, not their effects on Hilton et. al. themselves. 
 

Some might be interested in a couple of recent feminist blog posts on 
these issues (I like the first one especially):

http://madsheilamusings.blogspot.com/2006/03/forget-paris-i-never-thought-id-be.html

http://kakamak.blogspot.com/2006/05/i-like-paris-hilton.html  (Don't miss 
the summary of the South Park episode that focused on Hilton . . . 
speaking of vicious misogyny.)

____________________________

Rebecca Whisnant
Department of Philosophy
University of Dayton


"Why do we not believe hysterical women?  Hysterical women are always 
right."   (Margaret Cho)
===========================================================================
Date: Tue, 16 May 2006 23:14:00 +0800
From: Elizabeth Ross <sabina2671 AT GRAFFITI.NET>
Subject: Re: the Pink video
Misogyny in media is as much an economic issue as it is a feminist
one. It falls under the law of supply and demand. From the feminist
side, the question is "how does one discourage demand for products
that objectify women?". Pink performed "Stupid Girl" on Nickelodeon's
Kid's Choice Awards, and the song plays regularly on Radio Disney -
both are steps in the right direction since the lyrics are regularly
reaching an audience of pre-teen girls, and are presumably teaching
them that it is more important to like themselves than it is to change
themselves to please someone else.

Stamping out demand for the product would be best served in academia
by encouraging universities to make basic courses in women's studies
part of the core curriculum for programs in
elementary/middle/secondary education. Future teachers need to have
the tools to teach their students that women are not objects, and that
media promoting this concept is detrimental to society. Of course I'm
just following the same principle I do in my literacy and educational
reform work in this theory - increasing requirements and
accountability in universities, particularly in education programs,
will improve education in the US before any "bottom up" reform like
NCLB could. Universities need to change first because they are
producing the educators for all other schools.

Elizabeth
sabina2671  AT  graffiti.net

Publisher
River Walk Journal, Inc.
http://www.riverwalkjournal.org/
River Walk Journal Online Store
http://www.cafepress.com/cp/store.aspx?s=riverwalk

"The Master sees things as they are,
without trying to control them.
She lets them go their own way,
and resides at the center of the circle.

 - Lao-Tzu, "Tao-te-Ching"

Sabina's World Editing Group
http://www.riverwalkjournal.org/forum/

Blog
http://www.xanga.com/lizross
===========================================================================
Date: Tue, 16 May 2006 13:06:06 -0400
From: Joan Callahan <buddy AT POP.UKY.EDU>
Subject: Re: the Pink video
I really don't see why this is such an either-or situation -- blame the men 
or blame the women.  Indeed, I don't see why it is construed as a blaming 
exercise at all.  I take Pink to be communicating in so-called Third Wave 
language to Generation Y women.  And what she is communicating embodies 
some old-fashioned Second-Wave values, primarily, Don't Buy Into This 
System.  Given many of the undergraduate women I work with and for, it 
seems to me to be a message that desperately needs sending. . . .

Joan Callahan
<buddy  AT  pop.uky.edu>
===========================================================================
Date: Wed, 17 May 2006 11:39:14 -0600
From: "Grotzky, Marilyn" <Marilyn.Grotzky AT CUDENVER.EDU>
Subject: blondes
There's a book on how girls experience race.  Most of the essays are by
non-white women who first experienced race as non-white girls, but one
is by a woman of Scandinavian background, whose experience was that her
hair was considered something to comment on -- it belonged to everyone,
could be touched by anyone -- she recalled being in some public place
feeling someone stroke her hair -- her father was standing next to her,
so she thought that was who is was, but, looking up, she discovered that
a total stranger was patting her hair, and her father wasn't asking him
to stop.  Sort of like the people who feel they can touch the stomach of
a pregnant woman or those who were compelled to touch my broken arm. The
blonde has a point.

I've met blondes, or women who are pretty in a very feminine way, or
pretty short women, or even women with very feminine names, who have had
to work very hard to be recognized as having a mind.  Some are so
stereotyped so young that it takes years for them to realize they have
brains. One said that she'd married the first man who said, "Amelia, I
didn't ask you what I thought, I asked what you thought.  What do *you*
*think* about this issue?"

Marilyn Grotzky
Auraria Library
===========================================================================
Date: Wed, 17 May 2006 12:45:16 -0700
From: Sarah Rasmusson <sarahrasmusson AT YAHOO.COM>
Subject: Re: the Pink video
With all due respect, and I always give mad props to
Pollitt's work, I'd like to say that it is never okay
to ridicule any woman, let alone any young woman, for
any reason -- despite our complicit pleasures at
mocking seemingly-vapid and shallow hotel mogul legacy
daughters such as Paris Hilton or bubblicious pop
stars like Spears: both blond, both wealthy, both the
love-to-hate stuff of glossy mags (I refuse to comment
on their breasts).

The reference to Wollstonecraft and then the utter
dismissal of the young woman student (noted by Pollitt
as "that blonde student") speaks to why so many young
women today have called out a generational divide in
their refusal to identify with or accept the old guard
of feminist thinking. 

I think we have to do a lot more self-inventory (those
of us 30 and older) and work a lot harder to
understand why these images -- and Pink's response to
them in "Stupid Girl" as a form of cultural activism
-- get so much truck with young women today. 

The "Stupid Girl" thread here has a lot to do with
some of my recent work on "Mean Girls".

I am doing a lot of work right now on the cultural
phenomenon of "mean girls" and what I see as the rise
of a new genre of media, as "mean girls media"  -- the
2004 hit movie Mean Girls starring Lindsay Lohan and
Rachel McAdams and the rise of the cultural discourse
of girl-on-girl aggression in everything from NYT
Sunday magazine cover articles, to self-help guides,
to Dr. Phil, to public policy that amounts to
increased surveillance and control of girls in public
schools in the past few years.

The Mean Girl is the new At-Risk Girl. Regina (a
character from the movie), as the Queen Bee, seems to
be the new icon of white, damaged/damaging femininity
like Ophelia was in the late 90s.

And, I think Pink's "Stupid Girls" and the song
"Hollaback Girl" talk back to these more dominant
cultural images.

In some exploratory ethnographic research, 13 young
women (who were teens during that unfortunate "grrrl
power" kaka of the late 90s) are reporting to me from
surveys and focus groups that they are bitter at the
lack of options to shape their own image to the
outside world. They love the movie Mean Girls, just as
much as they follow the gossip of Lohan, Hilton, and
Spears, just as much as they download songs by Pink.
Their identity politics are all over the board and
their consumption practices are self-admittedly
problematic. And, without using feminist or cultural
studies language, they 'get' the "dumb blonde"
iconography that is rooted in lookism, white
supremacy, heteronormative notions of the suburban,
nuclear family, middle class consumerism, etc.

Sadly, for me, as a third wave feminist, they seem to
also have missed the Third Wave.

Anyway, I think it is one thing for Pink to
'excoriate' some types of young women in a hermeneutic
self-same holla' in pop culture. It is quite another
when older academics and activists on a listserv start
to show the same disdain for young women.

Best, Sarah Rasmusson

Sarah L. Rasmusson 
Institute of Communications Research 
University of Illinois 
228 Gregory Hall 
810 S. Wright Street 
Urbana, IL 61801
srasmus3  AT  uiuc.edu
===========================================================================
Date: Wed, 17 May 2006 15:59:44 EDT
From: Christina Fisanick <CLFisanick AT AOL.COM>
Subject: Re: the Pink video
 
This is happening our community right now. There have been a couple of  
recent "mean girl" incidents, and there is now a big news report coming on this  
week all about the threat of mean girls.  I am seriously concerned about  what 
this means in regards to controlling female behavior.  Of course, I  don't 
support violence at all, but I worry that these few incidents, which are  being 
called a "wave," are being magnified and will be used against girls and  women.  
 
Christina
 
______________________________

Dr. Christina  Fisanick
Assistant Professor of English
Writing Program Director
Xavier  University
Cincinnati,  OH
clfisanick  AT  aol.com
===========================================================================
Date: Wed, 17 May 2006 16:35:53 -0400
From: Katha Pollitt <katha.pollitt AT GMAIL.COM>
Subject: Re: the Pink video
Thanks for the kind words about my column, but um, never ridicule ANY  
woman? Are women so lacking in agency that one must only feel sorry  
for them?  Oh poor Dr. Laura, who could only become rich and world- 
famous by spouting rightwing vitriol on the radio! The world is so  
unfair.  There's a lot of slippage between making fun of Paris Hilton  
and showing 'disdain for young women." Paris H, an adult,  has done a  
lot of harm to women. She has used her considerable powers--born of  
fabulous wealth and exhibitionism -- for bad, not good.  she has made  
the world just that little bit more callous and shallow and  
materialistic, she has made it just that much less cool to work at  
anything or care about anything but money and fame, no matter how you  
get it. She, like our President, has made it that much harder to  
argue that there is any connection between success and developing an  
actual talent.
   i actually do feel sorry for Britney Spears, the creature of her  
parents. She never had a chance.
   I don't think I feel disdain for young women at all. But there has  
to be a place in the feminist landscape for someone who says, at some  
point you have to turn off the pop-culture tape in your head, and  
playing dumb won't get you where you want to be.
   Interesting, my daughter (18)  is very down on girls who suck up  
to boys by playing stupid, who hook up for status purposes,will do  
anything to have a boyfriend and have no loyalty to their women  
friends.  Then i say to her the things Sarah says below.
Katha Pollitt
katha.pollitt  AT  gmail.com
===========================================================================
Date: Wed, 17 May 2006 13:49:57 -0700
From: Audrey D. Brashich <abrashich AT YAHOO.COM>
Subject: The Pink Video
I just want to bring to the attention of list members another video
clip that might be useful when discussing topics related to Pink's
Stupid Girls.

The song is called Unpretty by TLC, and the video can be seen at
http://music.aol.com/artist/tlc/26086/video

This video does a great job of caputring the confusion and ambivalence
that teens and young women (and adults) often feel around contemporary
beauty standards. It portrays an overweight 20something sitting in her
room gazing at walls covered with images of fashion models and
hollywood starlets--something she clearly aspires to be, or at least
look like.  Yet to get there would be too tough, she seems to think,
so instead she binge eats, resulting in increased body loathing.

In my experience as an editor at teen magazines where I handled
thousands of pieces of reader mail, this video closely mirrors what I
heard constantly from young women: That they simultaneously want to be
considered cool, desirable and pretty--but are angry and often
demoralized by the pressure on them to spend their time, energy and
money on trying to obtain something they know deep down not only may
be out of reach but isn't real/important.

Audrey Brashich

author of All Made Up: A Girl's Guide to Seeing Through Celebrity Hype
and Celebrating Real Beauty (Walker & Company, May 2006)


www.AudreyBrashich.com
Abrashich  AT  yahoo.com
===========================================================================
Date: Wed, 17 May 2006 14:52:43 -0700
From: Betty J Glass <glass AT UNR.EDU>
Subject: "At Seventeen" - an earlier song relevant to the "blonde" and
Hi, everyone. Recent messages reminded me of Janis Ian's "At Seventeen"
song, about an earlier generation of girls who fell short of the beauty
standard.

The lyrics are here:
<http://www.pbs.org/inthemix/educators/lessons/selfimage2/atseventeen_ly
rics.html>

I backed up the url a little and discovered that the lyrics are part of
a curriculum package about body image, popular culture, and eating
disorders.

http://www.pbs.org/inthemix/educators/lessons/selfimage2/

fyi,
Betty
_______________________________________

Betty J. Glass
Resource Analysis & Support Librarian
Getchell Library/322
University of Nevada, Reno
1664 N. Virginia St.
Reno, NV 89557-0044
glass  AT  unr.edu
===========================================================================
Date: Wed, 17 May 2006 16:25:37 -0700
From: Rabbi Alana Suskin <alanamscat AT YAHOO.COM>
Subject: Re: the Pink video
So from another Big Politt fan:
I think that I want to make a distinction between
thinking that what Dr. Laura and Paris Hilton do are
okay in any way whatsoever and ridiculing them.
Perhaps it's because that I'm also a huge fan of
Judith Martin (Miss Manners and openly feminist
columnist) or perhaps it's from my own religious
tradition that suggests that badmouthing people
(Lashon haRa)even when what one is saying is true is a
sin (exemptions made for need-to-know - i.e. "you're
about to marry an abuser" is different than "Paris
Hilton is a goober.") that I want to suggest that
there might be better ways to discuss the incredible
damage that people do without actually calling them
ugly names which reflect  not so much on the women
themselves, but on the culture that they have, after
all, mastered successfully on its own terms through
part luck and part application to its very obvious
rules.
In fact, need I point out that Katha, you have in fact
done that quite werll in the post from which I quote
below: no names like "whore" and yet you do show that
what these women do is not a good thing.

Alana Suskin
alanamscat  AT  yahoo.com
===========================================================================
Date: Thu, 18 May 2006 06:57:12 -0400
From: Hagolem <hagolem AT C4.NET>
Subject: Re: the Pink video
Ridiculing is not the same as "calling bad names."  It is a way to enlist 
readers in seeing the damage that certain behaviors can cause.  Simply 
lecturing turns people off.  Humor and ridicule are ways of getting the 
point across without getting rid of the potential audience.  It is far more 
effective than moralistic statements.

marge piercy
===========================================================================
Date: Thu, 18 May 2006 06:49:54 -0700
From: Courtney Martin <courtneyemartin AT YAHOO.COM>
Subject: Pink article in Women's eNews today
Thanks to everyone for their input. Unfortunately this last edits
appears sans women's studies folks, to my disappointment, but alas:

  http://www.womensenews.org/article.cfm/dyn/aid/2744
  -Courtney
   
  courtneyemartin  AT  yahoo.com
  adjunt professor at Hunter College and freelance writer


Check out my website: www.courtneyemartin.com  

"Engrave this upon your heart: there isn't anyone you couldn't love once you heard their story." --Mary Lou Kownacki
===========================================================================
Date: Thu, 18 May 2006 10:31:35 -0400
From: Leah Ulansey <leahu AT EARTHLINK.NET>
Subject: Re: the Pink video--sisterliness in debate
This issue--confrontational-style debating tactics vs pacifist, 
community-affirming verbal conflict resolution--is a tough one for me. I
find it hard to give up the rhetorical tools (humor, ridicule, etc.) that
I've learned from the "malestream." But I can't help thinking that these are
"the master's tools" and there may be a better way.

This is not just a feminist issue. Quakers and other pacifists advocate
verbal techniques that allow conflicts to be addressed without polarizing or
escalating a dispute.

Among some groups, this is crucial because verbal conflict can escalate to
physical. Maybe women can handle verbal confrontation in different,
non-traditional ways because we don't have a history of organized,
inter-group violence.

Leah Ulansey
Maryland Inst. C. of Art
===========================================================================
Date: Thu, 18 May 2006 12:47:59 EDT
From: Christina Fisanick <CLFisanick AT AOL.COM>
Subject: Re: the Pink video--sisterliness in debate
And, as Cornell West has said (paraphrase here): Texts (persons) aren't  
taken seriously unless they are critiqued because if no one is critiquing them,  
then no one finds them to be of importance.  
 
Christina
 
______________________________

Dr. Christina  Fisanick
Assistant Professor of English
Writing Program Director
Xavier  University
Cincinnati,  OH
clfisanick  AT  aol.com
===========================================================================
Date: Thu, 18 May 2006 13:55:40 -0400
From: Katha Pollitt <katha.pollitt AT GMAIL.COM>
Subject: Re: the Pink video--sisterliness in debate
Oh dear, i don't want to be a Quaker or anything similar! I value  
debate, humor, sarcasm, cleverness, and satire. It baffles me that  
you would find these "master's tools,' when you consider how much  
humor has been the weapon of the oppressed. Jewish humor, Afro-Am  
humor. Quaker humor?   As for 'sisterhood,' you think real sisters  
don't argue, ridicule, etc?
   i don't see what is so terrible about conflict anyway. You can  
learn a lot from arguments sharply posed.  IMO women are too afraid  
of conflict, everything has to be nicy-nice or there's a huge explosion.



Katha Pollitt
katha.pollitt  AT  gmail.com
===========================================================================
Date: Thu, 18 May 2006 09:24:12 -1000
From: Hannah Miyamoto <hsmiyamoto AT MSN.COM>
Subject: Re: Pink article in Women's eNews today
  Thank you for that link.  It is very informative for those of us without a 
TV or much interest in watching one.  This quote caught my attention.

<<A young woman posting on Pink's Web site felt maligned by the video: "I 
myself am struggling with binging and purging, but I am not a so-called 
'Stupid Girl'. I have a high GPA, and I'm a very independent girl, but I am 
still struggling with bulimia and I was really disappointed to feel lumped 
in with the bimbos in your music video.">>

   Where did this young woman ever get the idea that Pink, with all the 
video's images of over-tanned, over-primped, (and over-pimped?) bimbos, was 
singing about average girls and women in middle America?  Here is another 
fine example of what Eleanor Roosevelt meant by, "No one can ever make you 
feel inferior without your consent."
    Yes, I understand that low self-esteem is one of the accompanying 
conditions of bulimia--I hope the counseling she is receiving (and I hope 
she is receiving some) includes that message.

    "ER," incidentally, pressured President Kennedy to establish a national 
Council on the Status of Women in 1961, which was instrumental in launching 
the Second Wave of American feminism.  She did this while her health was 
steadily declining, chairing the first meeting less than nine months before 
her death.  See: 
http://www.pbs.org/wgbh/amex/eleanor/sfeature/md_wi_09.html

In Sisterhood,
Hannah
===========================================================================
Date: Fri, 19 May 2006 08:34:05 -0400
From: Anne R Carson <arc3 AT CORNELL.EDU>
Subject: Re. Pink video
As if reading our minds, the lead article on today's Salon.com is:
"Return of the brainless hussies: From "American Idol" to Paris Hilton to
an army of jiggly video stars, vapid females seem to be everywhere these
days. Have we really gone this far backward, baby?" - by Rebecca Traister.
Pink's video is analyzed as well.

Anne Carson
Cornell University Library
Ithaca, NY
arc3  AT  cornell.edu
===========================================================================

For information about WMST-L

WMST-L File Collection