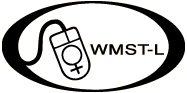 Girl Power and Girl Audiences
What follows is a discussion of work on the rise of "girl power" in
the media and Western culture and on girls as consumers/audiences
of popular culture texts.  The discussion took place on WMST-L in
May 2004.  For additional WMST-L files available on the Web, see
the WMST-L File Collection.
===========================================================================
Date: Wed, 19 May 2004 09:00:30 -0400
From: Rebecca C. Hains <hains AT TEMPLE.EDU>
Subject: readings on girl power and girl audiences
Dear Listmembers,

I'm looking for some scholarly background readings on two areas:  1. the
rise of "girl power" in the media and U.S./Western culture, and 2. girls
as consumers/audiences of popular culture texts. For the latter, I'm
especially interested in studies of how adolescent and pre-adolescent
girls derive meaning from mediated texts (television shows, movies,
magazines, etc.).

I'd appreciate receiving any recommendations you may have.  If I receive
suggestions off-list, I'll be happy to compile and share them with the
list.

With thanks and best wishes-

Rebecca

Rebecca C. Hains
hains  AT  temple.edu
Temple University
Philadelphia, PA
http://astro.temple.edu/~hains
===========================================================================
Date: Wed, 19 May 2004 14:33:47 -0600
From: Colleen Mackcanty <cmackcanty AT earthlink.net>
Subject: Re: readings on girl power and girl audiences
Hi, You might check SIGNS SPECIAL ISSUE: FEMINISMS AND YOUTH CULTURES, 23:3
(Spring 1998).

Colleen Mack-Canty
===========================================================================
Date: Thu, 20 May 2004 08:22:10 -0500
From: Mary Celeste Kearney <mkearney AT MAIL.UTEXAS.EDU>
Subject: Re: readings on girl power and girl audiences
Hi Rebecca -

A great article on girl TV audiences is Sue Murray's piece on MY
SO-CALLED LIFE's viewers in KIDS' MEDIA CULTURE.

I've written about the theme of "girl power" in 1990s' indie films,
like GIRLSTOWN, in a piece published in SUGAR, SPICE, AND EVERYTHING
NICE: CINEMAS OF GIRLHOOD.

There may be some other useful articles in both of these texts.
Also, you might check out Christine Driscoll's GIRLS.

Best of luck with your project!

mary


Mary Celeste Kearney
Assistant Professor
Department of Radio-Television-Film
The University of Texas at Austin
1 University Station A0800
Austin, TX  78712-0108
Office: 512-475-8648
Fax: 512-471-4077
===========================================================================
Date: Thu, 20 May 2004 10:04:27 -0500
From: Angela Hubler <ahubler AT KSU.EDU>
Subject: Re: readings on girl power and girl audiences
Dear List,

I've published two articles based on interviews with adolescent female
readers, both of which include bibliographies with relevant citations:

"Can Anne Shirley Help Revive Ophelia: Listening to Girl Readers" in
Delinquents and Debutantes, ed. Sherrie Inness.

and

"Beyond the Image: Adolescent Girls, Reading, and Social Reality" in the NWSA
Journal 12:1.

Since I published those, I discovered another very useful book by Meredith
Cherland, Private Practices: Girls Reading Fiction and Constructing Identity.

The citations already posted on the list are very helpful to me as I am
currently revising and expanding these articles, along with some others
(including one on the film Girls Town) as a book.   Thanks, and keep them
coming.

Regards,
Angela

Angela E. Hubler
Associate Professor of Women's Studies
3 Leasure Hall
Kansas State University
Manhattan, KS  66506
(785)532-7274
fax: (785)532-3299
ahubler  AT  ksu.edu
===========================================================================
Date: Thu, 20 May 2004 12:59:30 -0500
From: Eloise A. Buker <bukerea AT SLU.EDU>
Subject: Re: readings on girl power and girl audiences
Sherrie Inness writes about this topic from a literature/popular culture
viewpoint with a nice wide base of illustrations.  Eloise Buker
===========================================================================
Date: Fri, 21 May 2004 00:27:11 EDT
From: Batyawein AT AOL.COM
Subject: girl power
Femspec has a girl power section coming out in 5.2, currently being set up.
Great stuff on Sailor Moon, Buffy, audiences and so on. You can pre-order by
going on line at femspec.org/.

Batya Weinbaum
batyawein  AT  aoo.com
===========================================================================
For information about WMST-L
WMST-L File Collection