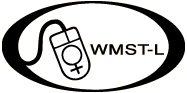 The Body and Culture: Suggested Readings
The following discussion of texts dealing with the body and culture 
arose in response to a request for work more accessible than Susan
Bordo's.  The discussion took place on WMST-L in Sept./Oct. 2002.
For additional WMST-L files available on the Web, see the
WMST-L File Collection.
===========================================================================
Date: Mon, 30 Sep 2002 10:48:33 -0400
From: Lisa Blansett <blansett AT FIU.EDU>
Subject: Bodies and Culture
I've been teaching for the past year at Babson College, an institution with
a business focus but a strong liberal arts curriculum.  In one of our
introductory courses, we used Susan Bordo's work to open up conversations
about the female (and the male) body.  Students found the work a bit on
the inaccessible side, and I'm wondering whether any of you would suggest
texts that are a little more first-year-friendly that deal with the
formation of bodies.  We'd want chapters or articles, and we'd want to
cover aspects of cultural bodies (race, gender, sexuality, desire,
and so on).

I'll check this (old) e-mail address, but my new one
is:  lblansett  AT  babson.edu

I appreciate your help!

Lisa

*--*--*--*--*--*--*
Lisa Blansett
Assistant Professor
English Department
Florida International University
DM 461A
Miami, FL  33199
(305)348-2507

blansett  AT  fiu.edu
www.fiu.edu/~english
www.fiu.edu/~blansett/index.html
-------------------------------------------------------------------------
Florida International University is part of the State University System of
Florida.
-------------------------------------------------------------------------
===========================================================================
Date: Mon, 30 Sep 2002 11:18:24 -0400
From: "Plymire, Darcy" <dplymire AT TOWSON.EDU>
Subject: Re: Bodies and Culture
Lisa--I have used Joan Jacobs Brumberg's book, "The Body Project", with
introductory classes to accomplish some of what Bordo's book does. There
are some trade offs. The two books do not cover exactly the same
territory, and Brumberg's book is less complex and nuanced, but that is
part of what makes it a good introductory text.

Best,
Dr. Darcy C. Plymire
Department of Kinesiology
Towson University
8000 York Rd.
Towson, MD 21252
dplymire  AT  towson.edu
410-704-3172
===========================================================================
Date: Mon, 30 Sep 2002 10:21:40 -0600
From: "Grotzky, Marilyn" <Marilyn.Grotzky AT CUDENVER.EDU>
Subject: Re: Bodies and Culture
One of my students recommended Adios, Barbie, which is now, I think,
called Body Outlaws -- it seems to be pretty much first person -- it's
definitely way less complex and nuanced than Bordo, but has a lot of
straightforward energy.  It's missing the historical background of The
Body Project but it's clear on choices and creating a certain amount of
control over one's appearance, whether it's the appearance someone else
would desire or not -- useful, I think, because we do see people making
decisions we might not and wonder why.  This book seems more about
rebellion and personal power that social control.

Marilyn Grotzky
Auraria Library
MSCD Institute of Women's Studies and Services
===========================================================================
Date: Mon, 30 Sep 2002 12:37:03 -0400
From: Anne Wiley <wiley AT CROCKER.COM>
Subject: Re: Bodies and Culture
Hello
From time to time I have also used excerpts, also first person accounts, 
from Leslea Newman's Eating Our Hearts Out: Personal Accounts of Women's 
Relationships to Food, Crossing Press, 1993, $12.95. It doesn't do 
nearly what others have offered, and clearly it is not Susan Bordo's 
approach, but a few of the personal essays can pull in Introductory 
students.

I think there are also one-two shorter essays in Listen Up: Voices from 
the Next Feminist Generation.  (2nd edition) Barbara Findlen, Editor.  
WA: Seal Press, 2001, that might also help.=20

Regards,
Anne Wiley
Greenfield Community College
Greenfield MA 01301
===========================================================================
Date: Mon, 30 Sep 2002 12:58:45 -0400
From: Jennifer Tuttle <JTuttle AT UNE.EDU>
Subject: Re: Bodies and Culture
For discussion-starters, I'd recommend two poems:  Marge Piercy's
"Barbie Doll" and Janice Mirikitani's "Recipe for Round Eyes."  I have
used them many times with intro-level students to great success.  I
think they are both widely available: I got Piercy's from an anthology
called MONDO BARBIE and Mirikitani's from her collection, WE, THE
DANGEROUS (it's also available in the HEATH ANTHOLOGY OF AMERICAN
LITERATURE, V. 2).

Jennifer Tuttle
University of New England
===========================================================================
Date: Mon, 30 Sep 2002 13:39:27 -0400
From: hagolem <hagolem AT C4.NET>
Subject: Re: Bodies and Culture
Please, My Barbie Doll poem is in CIRCLES ON THE WATER, published by Knopf
and now in its 14th printing, paperback.  There are other poems you might
find useful in it.

There are 2 body image poems in WHAT ARE BIG GIRLS MADE OF, also in
paperback from Knopf, the title poem and "Belly good".

Marge Piercy
===========================================================================
Date: Tue, 1 Oct 2002 09:23:15 -0400
From: MichaelSKimmel <MichaelSKimmel AT COMPUSERVE.COM>
Subject: body and culture
While I adore Susan Bordo's work, and have taught several articles
successfully, I would also recommend Debra Gimlin's BODY WORK: BEAUTY AND
SELF-IMAGE IN AMERICAN CULTURE (University of California Press, 2002).
Gimlin examines the way people do body work in four different sites of
increasing engagement with working on the body.  She does an ethnography of
the makeover in a beauty parlor, works out like crazy among aerobic
fanatics, and hangs out with a plastic surgeon who does cosmetic surgery.
Then she attends meetings of NAFA (National Association for Fat Acceptance)
-- women who decide not to try and chnage their bodies, but how they feel
about them.  She combines good social science theory of the body with great
ethnography.  Oh, other virtues: the book is short (150 pp), well written
and in paperback.

Michael


***********************
Michael Kimmel
Brooklyn, NY
michaelskimmel  AT  compuserve.com
www.michaelkimmel.com
===========================================================================
Date: Tue, 1 Oct 2002 10:17:34 EDT
From: SPSCHACHT AT AOL.COM
Subject: Re: Bodies and Culture
Hi, Lisa,

You might want to check out Nancy Tuana et al's recently released anthology,
Revealing Male Bodies (Indiana University Press/2002).  Most of the chapters
are fairly accessible, including a piece by Bordo and another by me wherein I
describe my experiences of being an ephemeral drag queen.

Cheers,

Steve

Steve Schacht
Plattsburgh State University of New York
SPSCHACHT  AT  AOL.COM
===========================================================================
Date: Tue, 1 Oct 2002 09:50:06 -0700
From: Barbara Watson <mbwatson AT MAIL.SDSU.EDU>
Subject: Bodies and culture
A good and accessible text for a course on this topic would be
Katharine Young.1993. Bodylore. The University of Tennessee Press.

The following has a more specific focus but deals also with general issues
concerning the body and culture:
Margo DeMello. 2000. Bodies of inscription. A cultured history of the
modern tattoo community. Duke University Press.

Hope this helps.

Maria-Barbara Watson-Franke, Ph.D.
Department of Women's Studies
San Diego State University
San Diego, CA 92182
mbwatson  AT  mail.sdsu.edu
===========================================================================
Date: Tue, 1 Oct 2002 11:50:35 -0700
From: Wendy Burns <wburns AT GMU.EDU>
Subject: Re: body and culture
With regard to Gimlin's text, I found it to lack a strong theoretical
framework.  I think it would work well if you were teaching a methods
course, but in terms of putting together theory and practice, it falls
short of my expectations for a body studies course text.

Wendy A. Burns-Ardolino
wburns  AT  gmu.edu
Doctoral Candidate and Instructor
Cultural Studies and Women's Studies
George Mason University
===========================================================================

For information about WMST-L

WMST-L File Collection