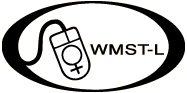 How to Stop Sending Attachments/HTML
Increasing numbers of people are using email programs that can send and read attachments with ease. E-mail attachments can be very useful when sent to an individual whose system can handle them. However, they create significant problems for some e-mail systems and lists and are therefore banned on WMST-L and a number of other lists. This ban extends to messages sent in HTML (HyperText Markup Language, the coding used in web pages) or in both plain text and HTML.

The trouble is that many people don't even realize that they're sending messages in HTML or other kinds of attachments. If you are using AOL, Eudora, Hotmail, Juno, Internet Explorer, MSN, MS Exchange, Lotus Notes, Novell Groupwise, Netscape, Outlook, Outlook Express, Pegasus, Poco, TheBat, WebTV, or any other system able to accept and open attachments, please examine your settings to be sure that you are sending only plain text. The file Configuring Mail Clients to Send Plain ASCII Text contains a brief discussion of the problem and instructions on how to send just plain text messages in almost all the e-mail programs just mentioned.

If you use Eudora Pro, you may also find help here. AOL 6.0 and later users may also find help in item #10 of the Unofficial AOL Email FAQ. Hotmail users can learn how to turn off HTML here. Apple Mail, Outlook and Outlook Express, Netscape, and Thunderbird are among several programs covered here (scroll down). A small set of useful instructions for several different email programs can be found here. If none of these files covers your email program, try a Google search using the name of your program and the words 'convert plain text' (omit the quotation marks).

Please check your email settings and change them if they are not set to send and reply ONLY IN PLAIN TEXT. WMST-L subscribers who send messages in anything but plain text will be unable to post future messages and may even be removed from the list.
---
For information about WMST-L
WMST-L File Collection