For PHP associative array:
$salary=array( 'tom'=>1900, 'dick'=>2000, 'harry'=>1000);
Write a PHP script which will display the colors in an html page in the following way :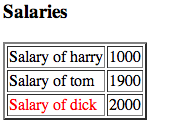 Requirements:
display in an html table.
the strings are sorted (see php docs for asort()).
a conditional finds the highest salary and make the name cell red (see php docs for end()).
Do not hard-code the html.
Submit two urls: one for php link, another for txt file link of your php script source code.