IS 651 Distributed Systems
Course Description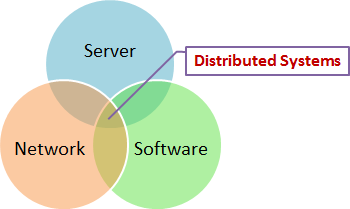 This course covers distributed computing architectures (emphasizing service-oriented architectures) and web services. You are assumed to have taken IS650 or equivalent, have an elementary knowledge of web technology, and have taken elementary object-oriented programming. A major focus of the course is on doing technical, hands-on exercises. We learn XML basics and XML Web Services in this course. We also take a technical look at server-side frameworks for web services. The first half of the course concentrates on architectures and the second half on implementation details.
The schedule shows all the book chapter, slide, exercise and homework. Each slides link consists of the lecture slides for that chapter/week. The exercise and homework links show a page with exercise, homework and references. The exercises are usually related to the homework. The main difference between exercise and homework is that you can ask help for exercise but homework should be done by yourself. You should read the corresponding chapter before coming to class. Exercises and homework are subject to change prior to the class, so if you save files, recheck the web each week. We will standardize on the Chrome and Firefox browsers.
No cell phone use is allowed in class. You may not check your phone or even have it visible. It must be put away and off or on vibrate during class. No eating in class. Please be on time for class. Finally, never use a computer for non-classroom tasks during class lecture.
Contact Information
Instructor: Jianwu Wang, PhD
Instructor Office: ITE 423, UMBC 1000 Hilltop Circle, Baltimore, Maryland, 21250
Instructor Office Hours: Tuesday 3:30-5:00pm (Try to make appointment early to avoid conflicts).
Grader: Savio Kay
Contact: email for personal issues, Piazza for course content issues
Textbook
Title: Distributed Systems: Architecture and Implementation
Author: Kip Canfield, Jianwu Wang
Attendance and Participation
Regular and punctual attendance is expected of all students. In the case of absence due to emergency (illness, death in the family, accident), religious holiday, or participation in official College functions, it is the student's responsibility to confer with the instructor about the absence and missed course work.
Class Preparation and Student Success
All of the reading assignments should be completed before the class in which the material is to be discussed. Students should expect that for every 3 credit hour course they are devoting at least 9 additional hours preparing and studying course materials which are required or suggested. Students should contact the instructor for additional information about how to best achieve the goals and meet the academic expectations for this course. Additional support may be available through university or department resources in order to guide students toward success.
Academic Integrity
By enrolling in this course, each student assumes the responsibilities of an active participant in UMBC's scholarly community in which everyone's academic work and behavior are held to the highest standards of honesty. Cheating, fabrication, plagiarism, and helping others to commit these acts are all forms of academic dishonesty, and they are wrong. Academic misconduct could result in disciplinary action that may include, but is not limited to, suspension or dismissal. See more at Academic Policies/Student Rights and Responsibilities at UMBC Gradudate School.
Grading
Discussion - 10*0.5=5 points for 5%
Case study - 10 points for 10%, grading rubric
Homework - 7*5=35 points for 35%
3 non-comprehensive exams - 15+20+15=50 points for 50%
Grades are curved with the average total points being middle B, but the curve never exceeds a standard grading scale. This means, for example, that one always gets an A(-) for >=90%, B(+/-) for >=80%, etc. Plus/minus grading is used. Exams are all 75 minutes only.
Exam Make-up Policy
No make-up exams except through arrangement with the instructor prior to the exam date: and then for reasons deemed valid enough to warrant the making of a new, and potentially harder, test.
Student Disability Services (SDS)
UMBC is committed to eliminating discriminatory obstacles that may disadvantage students based on disability. Services for students with disabilities are provided for all students qualified under the Americans with Disabilities Act of 1990, the ADAA of 2009, and Section 504 of the Rehabilitation Act who request and are eligible for accommodations. The Office of Student Disability Services (SDS) is the UMBC department designated to coordinate accommodations that would allow for students to have equal access and inclusion in their courses.
If you have a documented disability and need to request academic accommodations, please refer to the the SDS website for registration information or visit the SDS office in the Math/Psychology Building, Room 212. For questions or concerns, you may contact us at disability@umbc.edu or (410) 455-2459. If you require accommodations for this class, make an appointment to meet with me to discuss your SDS-approved accommodations.
Schedule
Note: Unless otherwise stated, homework is due on following Saturday. Homework will be graded before the next class.
Inclement Weather: Any work or test due on a class date that has been canceled due to inclement weather will be due the next class meeting. (If the semester's last exam is postponed, it will be given during the time period assigned during the University's official Final Exam week.)