THE PENNSYLVANIA PARANORMAL CONFERENCE
Saturday, March 22, 2003
Gettysburg, Pennsylvania
The Enigma Project is pleased to report that the 2nd Annual Pennsylvania Paranormal Conference was, in our humble opinion, a resounding success. Congenial hosts Rick Fisher and Carol Manlove did a superb job of organizing this event.

First of all, they selected an appropriate and comfortable venue in the Holiday Inn-Battlefield in Gettysburg (after all, since ghost research was one focus of the Conference, what better location could you choose?) Secondly, Rick and Carol chose informative, entertaining speakers who lectured on a variety of topics. Among many subjects, lectures were delivered on UFOs, Bigfoot, Psychical Phenomena, and of course, Ghosts. Thirdly, the presentations were well-controlled, kept on schedule, and frequent intermissions were provided so that attendees could refresh themselves, grab snacks, or purchase books, tapes, and other items from a number of tables in the conference room. Also, ample 90 minute breaks were scheduled for lunch and dinner. Though there was a convenient restaurant in the Holiday Inn that offered good, reasonably priced fare, for those who preferred to roam, a number of eateries could be found within short walking distance of the motel.
The lecture series ran from 9 AM to 9 PM. At 9 PM an hour-long walking Ghost Tour of Gettysburg began for those who wished to "try their luck" at a ghostly encounter and experience even more ambience. At 10 PM everyone re-assembled at the conference room for a final hour of informal discussion with the day's speakers.
For those of you whose interests include the realm of Unexplained Phenomena, we suggest that you consider attending the 3rd Annual Pennsylvania Paranormal Conference in 2004.
Below is a photo-summary of this year's speakers and lectures: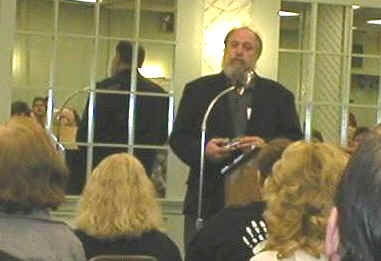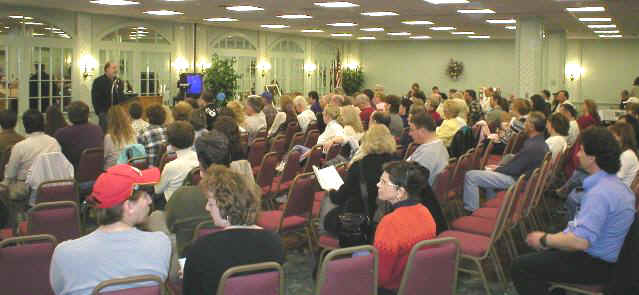 Rick Fisher, Conference Host and director of the Pennsylvania Ghost Hunters Society, opened the program with a talk on Ghost hunting Methods, Equipment, and Pitfalls. A crowd of 170+ listened attentively.
---
Kelly Weaver, Psychic, Metaphysician, and Capital Ghost Forum founder related her experiences with the Spirit World.
---
Author and forensic scientist, Dr. Katherine Ramsland discussed her investigations into Ghosts and Vampire sub-culture.
---
Author and Ghost Tour director, Ed Okonowicz talked of Ghostly experiences and Ghost Tour Development.
---
Veteran researcher Stan Gordon lectured on the Kecksburg UFO incident and other PA 'paranormalities'.
---

Pennsylvania author Dorothy Burtz Fiedel discussed her research of Lancaster County Ghosts & Haunts.
---
Scott Crownover & Patty Wilson, founders of the Ghost Research Foundation. Patty spoke on EVP and other phenomena.
---
Eric Altman, director of the Pennsylvania Bigfoot Society, discussed some of the cases his group has explored.
---
Charles Adams, III, author, entertainer, and Ghost Tour director told of many unusual experiences.
---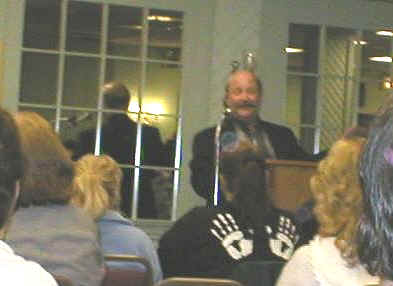 Gettysburg historian and "Ghosts of Gettysburg" author, Mark Nesbitt, explained many of the historic city's Haunts.
---
*******************