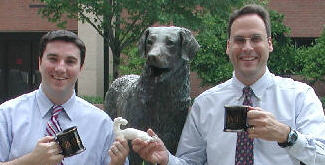 Partners in crime: Chip Rose (left) and John Fritz holding the first ever Luwak trophy in front of UMBC's mascot "True Grit." (not pictured: Doug Kendzierski, who slept through the team photo op).
UMBC's athletic teams are known to be tough.
Winners of three consecutive Northeast Conference Commissioner's Cups (2000-2003), awarded annually to the school that performs the best in the league's 21 sports, the UMBC Retrievers are also shrewd.
Without a win, place or show in the 2004 Battle of the Luwak individual standings, UMBC managed to win the coveted team weasel from gob-smacked ProfNet, which claimed the top three spots.
"What is this, the PGA world rankings?" exclaimed an exasperated Dan Forbush, ProfNet's president. "Something's not right in Hamilton, New York."
Indeed, when Luwak tournament organizer (and former ProfNet employee) Charlie Melichar left UMBC two years ago to become chief flak at Colgate University in Hamilton, he hinted at a new Colgate dynasty in the Luwak (Toilet) Bowl. This ugly stench of tampering would make an olympic ice skating judge blush. But Colgate was barely a blip and UMBC cruised under the New York radar to steal last year's team champeenship.
"Either Melichar was paying UMBC off during Colgate's reference checks, or the cold finally made him snap," groused Forbush. "Come on, how can you take the top three spots and not win?"
Meanwhile, UMBC Luwak pros John Fritz, Doug Kendzierski and Chip Rose are bemusedly tight lipped about this cantankerous New York state of mind.
"It sure was nice of the ProfNet folks to open up their little competition to outsiders in '99, but if you can the guy who's currently running the competition, at least hang on to the rule book," cracks 2002 Luwak Champion Fritz. "The key to purloining the prized poop isn't picking NCAA basketball teams, it's heaving your anchor office mates overboard."
This year, UMBC is poised for another run by deftly fielding a small team. If new father [Carolina] Chip Rose isn't napping with his new homey Luke, and Doug [eSnap] Kendzierski doesn't run out of gas talkin smack, then look for the Retrievers to add another victory photo (and mounted trophy) to their hall of fame.
Okay, if you're wondering what a Luwak is, click here.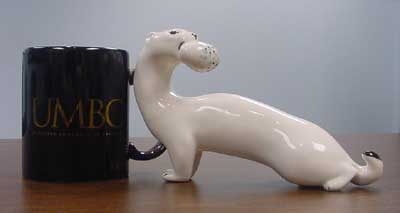 UMBC has won the Battle of the Luwak three of the past four years.
Will 2005 see another run for the . . . uh, well . . . runs? Class will tell.