Natives and Newcomers in North America
Jesuit Relations and Allied Documents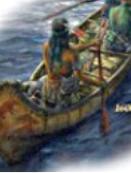 Topics Students Could Explore:
Cultural Differences (cf. JR 6: 228-35 about "good" things) (JR 5: 219-21 on childrearing)
Hunting Techniques (cf. JR 6: 296-99, 210-213)
Religion and Spirituality (cf. JR 10: 124-39 on Huron Origins)
Native Law and Government (JR 10: 254-61 on Huron government)
Disease and Medicine
Diplomacy and Warfare
Environment
Missions (JR 2: 46) (JR 51: 178-219 on the missions among the Mohawk, see also JR 53: 200-37) (mission at Kahnawake, 1682 letter see JR 62: 166-67 - these books are not yet digitized)
Jesuit Martyrdom (Movie: Black Robe deals with this theme quite effectively) (JR. 31: 16-69)
NB. Remember to use your browser in each volume, since there is not yet an index across volumes.
Web Links:
New France:
CBC Special on Canadian History
North American Indians:
Edsitement: an NEH site that describes the best websites in the humanities (has a category for Native American History)
Native Websites from around the world: Native Web
Native American Resources at the Smithsonian
Tenn. Tech. University Native links site
Information on Individual Native Nations
Bibliography:
Alan Greer, ed., The Jesuit Relations: Natives and Missionaries in Seventeeth-Century North America (Boston and New York: Bedford/St. Martin, 2000). Contains a very useful bibliography
In addition:
John Demos, The Unredeemed Captive: A Family Story from Early America (New York: Vintage, 1995; first publ. 1994).
Natalie Zemon Davis, Women on the Margins: Three Seventeenth-Century Lives (Boston: Harvard University Press, 1995).
Neal Salisbury, "'I Love the Place of My Dwelling': Puritan Missionaries and Native Americans in Seventeenth-Century Southern New England," in Carla Pestana and Sharon V. Salinger, eds., Inequality in Early America (Hanover: University Press of New England, 1999): 111-133.
Natalie Zemon Davis, "Iroquois Women, European Women," in Margo Hendricks and Patricia Parker, eds., Women, "Race," and Writing in the Early Modern Period (New York: Routledge, 19994): 243-58.